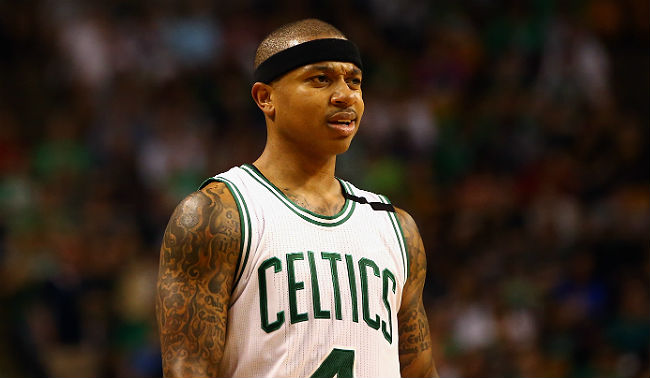 Isaiah Thomas might not be a factor on the court for the Cleveland Cavaliers for the foreseeable future, but he's still able to play mind games with his former Boston Celtics teammates. The point guard hopped into the comments on Instagram on Thursday to have a bit of fun with Al Horford.
Thomas is still sidelined with a hip injury that nearly derailed his trade to the Cleveland Cavaliers last month. The point guard clearly loved his teammates and playing for the Celtics, but now that he's in Cleveland he's seemed willing to share a bit of scouting report information with the masses.
Horford posted a picture of him working out on Thursday, a photo that Thomas saw and quickly commented on.
https://www.instagram.com/p/BZCOmHPgvDP/
"Another great run today," Horford wrote in the photo's caption. "Go Celtics!"
Amid the typical shamrocks and words of encouragement from Celtics fans, however, was a scouting report from Horford's former teammate.

"Going left spin back right hook off the glass lol," Thomas commented. "I got the scouting report lol."
It's clear Thomas is familiar with his former teammate's game, because Horford responded with the crying emoji, asking "Already?" It seems like the two have talked about sharing trade secrets in the past.
Plenty of folks saw the comment and reacted, including New England Patriots kicker Stephen Gostkowski, who said "New England loves ya!" That might be the case for now, but that love won't last if Thomas gives away everyone's secrets.