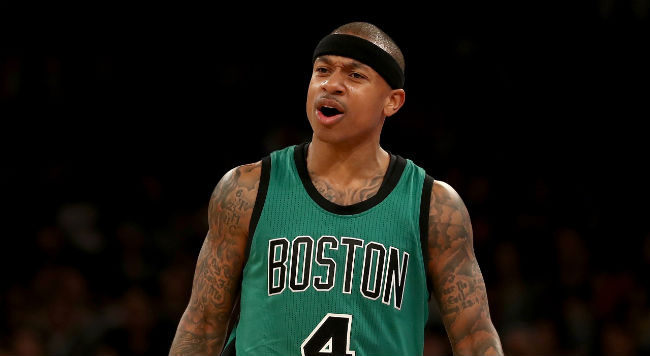 Isiah Thomas hasn't said much since he was abruptly traded to the Cleveland Cavaliers for Kyrie Irving last month. The deal took a long time to officially finalize, but through it all Thomas didn't say much.
He finally spoke up on Wednesday in a long piece published in The Players' Tribune on Wednesday. Entitled "This Is For Boston," Thomas described his emotions, how his family reacted to the trade and what Boston meant to him as he launched his career with the Celtics.
While the reactions of his children were said to be most important to him, the piece also gives us some details about how Thomas found out about the trade.
Irving detailed a sudden call from Celtics general manager Danny Ainge after he had returned from a trip with his wife, Kayla, to celebrate their wedding anniversary. After some small talk, Ainge broke the news.
And then somewhere in there, it was just like … it was barely anything. This little pause in the conversation. And that's when he told me.

"I just traded you."

Simple as that. No big words, no big speech. Though I guess when it comes to shit like that, there's not much more to say.

"To where." That's all I could manage.

"To the Cavaliers, for Kyrie."

And that's when, like — man. You ever been on the phone, and someone says something … and then all of a sudden, all you can think about after is, I don't want to be on the phone anymore? Not even in a rude way. Just, like, your willpower to have a conversation shuts down. That's what it was like for me in that moment.
Thomas said he FaceTimed his children after he found out. His oldest son, James, was thrilled that Thomas now gets to play with LeBron James in Cleveland.
"LEBRON! LEBRON JAMES! Dad — Dad. You get to play with LeBron James!" James said. Thomas' youngest son, Jaiden, was a bit less excited — Thomas said he wasn't sure if there were any skateparks in Cleveland.
The exchange is touching, but his own emotions about the trade were obviously more complex. Thomas said it hurt, plain and simple.
"Man, am I going to miss being a Celtic," Thomas wrote. "But yeah, I'll just say it: That shit hurt. It hurt a lot. And I won't lie — it still hurts."
Thomas said he understands why the trade happened, and he doesn't blame anyone. But that doesn't mean it wasn't a surprise to him, and that it didn't hurt him. Thomas also gets into the emotions of his entire tenure in Boston, including this postseason when he played while mourning the death of his sister, Chyna. It's an excellent reflection on his time in Boston, his career, and what's to come.
He doesn't seem bitter, but he also says he didn't come to Cleveland to lose. It sure is going to be interesting seeing how the East plays out this fall.