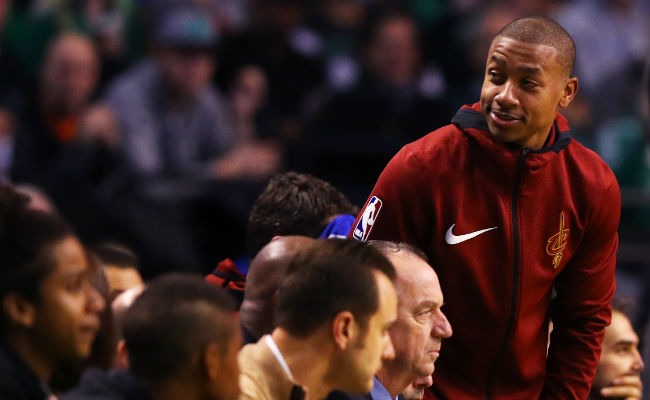 The Cleveland Cavaliers are getting close to the "team in crisis" label the European press reserves for soccer teams. The team is struggling on the court, and turmoil off it seems to follow them at every turn.
LeBron James' fate in the coming months has haunted the team for years, but free agency seems like a faraway concern these days given how many other issues the club currently has.
Kevin Love's early exit from a game on Saturday and absence on Sunday is just the latest in a long string of trade rumors and uncertainty the Cavs have had play out publicly this season. And the latest bit of drama is that one of the team's newest contributors — point guard Isaiah Thomas — was the impetus for the Kevin Love drama in the first place.
The team meeting everyone in the NBA is talking about reportedly involved issuing blame for defensive malaise and a string of losses on people all over the roster, but Love found himself singled out specifically for his absence.

Frank Isola of the New York Daily News reported Tuesday that it was Thomas who "led the charge" against Love for his absence over the weekend.
With the Feb. 8 trading deadline looming the next three weeks will be fascinating, starting with the dead-man-walking Cavs, who were described by one person close to the team as being in "utter chaos." ESPN reported that during a team meeting Kevin Love became yet again the convenient scapegoat. A source told The News that Isaiah Thomas led the charge against Love, who turned up ill for Saturday's embarrassing loss to Oklahoma City and went home after playing just three minutes.
Isola also said Cavs head coach Tyronn Lue is on the "hot seat" and that the Clippers' DeAndre Jordan still seems to be the likely answer in Cleveland. But the drama between Love and Thomas is perhaps surprising given that the two knew each other from their AAU days. Perhaps that's a sign that Thomas is legitimately concerned about the focus players on the Cavs currently have.
The meeting has been characterized as a bad one for the fate of the team this season, but it does speak to the general chaos of the league itself these days. With trade talks everywhere and uncertainty spreading to locker rooms all across the league, it's tough to blame anyone for letting their frustrations spill out here.
Tis the season for trades solving problems like this, but it's tough to say who's on their way in or out in Cleveland right now as it could be a few deals that get done over the next two weeks, starting with a rumored George Hill deal that is nearing completion.