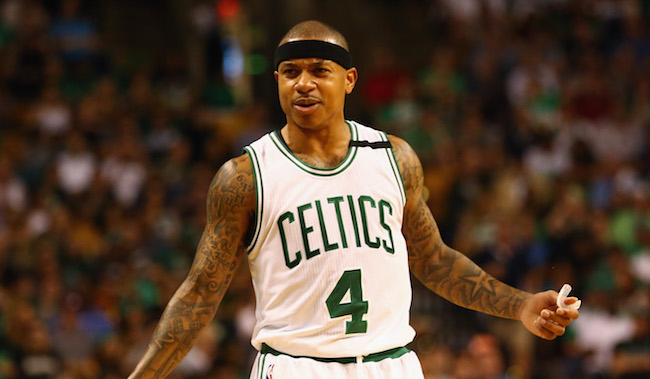 Isaiah Thomas was officially introduced as a member of the Cleveland Cavaliers on Thursday afternoon at an introductory press conference, a day after his powerful essay about his emotions leaving Boston and joining the Cavs. General manager Koby Altman opened the press conference by discussing the reasons why they were excited about adding Thomas to the squad, as well as Jae Crowder and Ante Zizic who were also present.
There was, of course, the elephant in the room of Thomas' hip injury which had dragged out the process of the trade until the Celtics added in an additional future second round pick. It was the Cavs' hope to ignore that in the press conference, with Altman asking for the focus to be on Thomas as an All-Star and a strong addition to the roster. However, the on court impact of Thomas can't really be discussed without knowing when he'll be on the court, so there was some early tension between Altman and the media, as he intercepted all questions directed at Isaiah about his hip.

"To be fair to Isaiah, we're not going to address any specifics of the hip injury," Altman said. "We're not going to put a timetable on it either. We're not going to rush it. … The goal is to bring him back at some point this year and be healthy and compete and get back to IT status."
It's not exactly a ringing endorsement of Thomas' health to say the goal is to get him back "at some point this year," and indicates that it may still be a significant amount of time until Thomas gets onto the court. Thomas and Altman both spoke about their commitment to the plan they've come up with in regards to Thomas' recovery with the Cavs' training staff and Thomas' doctors, but there is still nothing even remotely close to a concrete timetable for his return.
As for how the Cavaliers will proceed without Thomas until he is able to come back, Altman pointed to the signings of Derrick Rose and Jose Calderon this offseason as quality point guards that can fill in until Thomas is ready. That would indicate that, at least for now, any further moves are unlikely at the point guard position and Cleveland will hope those two veterans can fill the void and Thomas can get healthy sooner rather than later.