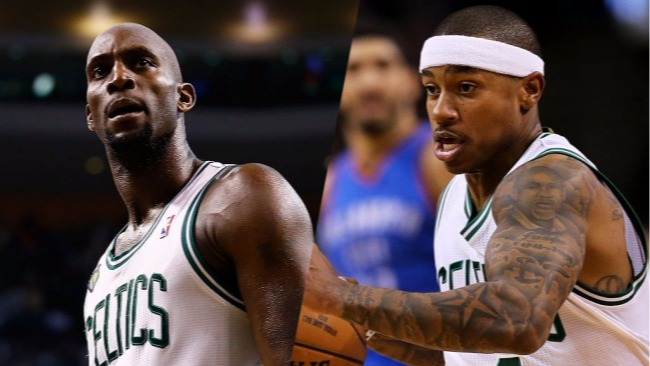 For some reason, people still doubt that Isaiah Thomas is a star. Perhaps it's because so many people spend their days reading about how DeMarcus Cousins or Nerlens Noel is the answer for the Boston Celtics, but his rising star power is no joke. Even LeBron James agrees that if the Celtics are looking to acquire another piece to put them on the same level as the Cavs, they're looking for a Pippen, because Thomas is their Jordan, shutting down fourth quarters like it's nobody's business.
But he obviously had to pay his dues like any of today's non-LeBrons, and that includes getting an earful from Kevin Garnett, the all-time greatest at making opponents cry. Today, Garnett is very fond of Thomas, and even showered the dynamic scorer with praise during the debut of his "Area 21" segment on TNT's Inside the NBA.
"Isaiah's got so much heart and he plays so big. Very gritty, very tough," Garnett said during a segment with Rasheed Wallace in which the former NBA stars debated whether they would rather have Thomas or Cleveland's Kyrie Irving taking a final shot. "It's a point guard league. The point guard matchup is very difficult. … I love Isaiah's heart. Your point guard, a lot of times the identity of your team starts with your point guard. Isaiah, I love his heart and how he plays." (Via ESPN)
Obviously, Thomas was very pleased to hear that and even compared himself to the NBA legend:
"I'm the 5-9 Kevin Garnett. That's who I want to be," said Thomas. "[Garnett's praise] means a lot. For a guy I looked up to, who I knew I would be nothing like [in size], but just the way he prepared himself, the way he didn't back down from anybody, and how he was so locked in. It was amazing to see that up close. For him to say that about me, that says a lot."
Aw, these guys are so sweet. It's a far cry, however, from the first time they met on the court. As Thomas recently told NBA.com's David Aldridge, Garnett treated him like he treated all young nobodies in the NBA.
Me: But you came to a spot where guys like KG blew up, too. What do you think when you hear how he praises you?

IT: It's an honor. My first NBA game was the Sonics versus the T-Wolves in '97, and I got to see Kevin Garnett. It's an honor for him to talk highly of me, and I just try to follow in his footsteps. Try to be named the Little Ticket instead of the Big Ticket.

Me: I love the story about him woofing at you when he set the picks on you.

IT: Yeah, it was Sacramento versus Boston. And you always hear the stories of KG talking, and trash talking. One time he set a pick — he set a few picks, and I was getting upset, because they weren't calling the illegal screen. And I said something to him, and he barked right back, 'shut your little midget (bleep) up.' And I kind of laughed. I was like, there you go. I was in one of those scenarios where he was talking trash. But one day he came up to me and he told me he respected how I played, and that's all that really matters at the end of the day.
A truly heartwarming tale of a large man picking on a smaller man before later becoming best buds. This summer, Disney Pictures brings us Big Ticket and the Little Midget (Bleep) that Could.