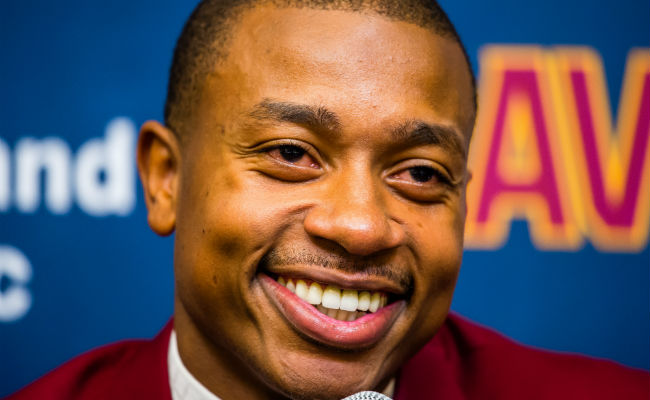 Isaiah Thomas might not be on the court for the Cleveland Cavaliers anytime soon, but he's taking in all the city has to offer. He stopped by Cleveland Browns star Joe Haden's store in the city to snag some merch and has generally embraced his new home with all the enthusiasm you'd hope a new star has for its athletes.
That includes jumping at the chance to be on one of television's longest-running shows. Thomas tweeted on Tuesday night about his excitement for a television opportunity. That's right, IT is going to appear on an episode of 'Law and Order: Special Victim's Unit.'
According to Cleveland.com the appearance won't be in character, but as himself. Thomas will somehow pop up in a missing persons investigation. The episode will air sometime in October, but Thomas himself confirmed he's filming his scenes on Wednesday.
https://twitter.com/Isaiah_Thomas/status/907800139103956992
Hopefully they do the classic Law and Order investigation scene where they question Thomas while he's at work. Maybe he can practice threes or lightly guard someone. Or, given his current injury, he can clap it up on the bench and just generally be encouraging while he gives investigators a tiny piece of information that leads to the discovery of a corpse.
The haters came calling on Twitter after his excited announcement, accusing him of focusing too much on executive producer Dick Wolf and not enough on trophies named Larry O'Brien. But Thomas had a good comeback for that.
He also had a funny capper to the evening before he got some rest to take on his role.
There's still lots of concern about his hip, but it sounds like Isaiah Thomas is doing just fine.