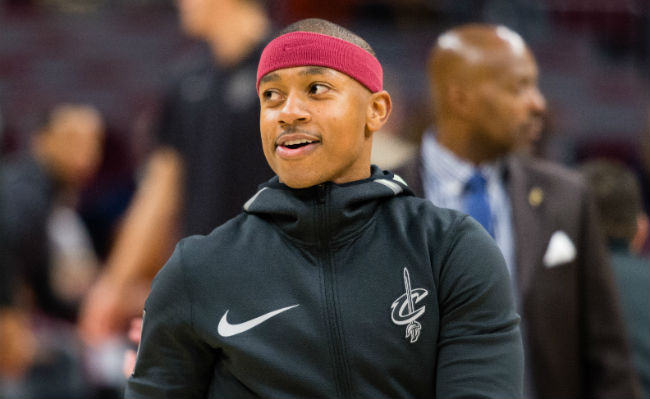 Isaiah Thomas' big day is finally here after missing the start of the season due to a hip injury. The All-NBA point guard made his debut for the Cleveland Cavaliers on Tuesday night against the Portland Trail Blazers, marking the first time that Thomas took the floor since the trade that sent him to his new team.
It remains to be seen how Thomas will impact the Cavs, but we do know that his on-court introduction to the organization will be gradual. Cleveland coach Tyronn Lue has said the team will slowly fold him in as Thomas gets used to the swing of things and a new organization.
We also know Thomas is already beloved by the fans in Cleveland, as evidenced by this moment when he checked in against Portland. The crowd gave him a massive ovation as he took the floor for the first time in the wine and gold. Even his teammates got in on the fun by standing and applauding.

Thomas also seemed really appreciative of the praise from everyone in the building.
Everywhere Thomas has gone, he's been the kind of player who endears himself to fans. He's done that so far in Cleveland before ever taking the floor, as evidenced by the fact that he's already getting such massive ovations before ever scoring a point in a Cavaliers uniform.
Time will tell whether Thomas' tenure in Cleveland is successful from an on-court perspective. We do know, however, that Cavs fans were stoked to see him at full health.