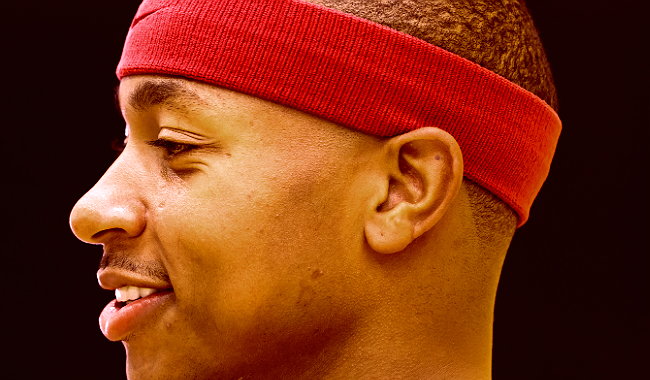 CLEVELAND — Fewer moments are as "inside basketball" as the 30-minute mark prior to a game. While most fans are milling around the concourse to pick up some gear or to grab that evening's beverage of choice, it's this window where in-game production begins. In Cleveland, it's typically a local dance troop, junior cheerleading squad, or a neighboring karate studio that gets to take to the floor for a pregame routine before heading to their seats to take in that night's game as a group.
This window of time is afforded to these groups as players have already taken part in their pregame warm-ups and have retreated back to the locker room for pregame rituals, be it last-minute game planning or their team prayer. On a night early in December, however, one local group is forced to do their pre-game dance routine on one half of the floor as the other is being taken up by Isaiah Thomas who is still getting up shots despite that night's game being minutes away from tipping off.
While it's fair to assume that evening's pregame entertainment flawlessly executed their routine, it's also fair to assume no one would be able to confirm such a notion as all eyes were fixated on Thomas as he breaks off a flurry of cross-over dribbles before effortlessly dropping a floater through the net. Making matters worse: Thomas' young son, Jaiden, is his personal ball boy, corralling rebounds and using all of his might to kick the ball back out to his dad for the next shot. It was adorable and endearing and mesmerizing as fans who normally would not be allowed in the arena early enough to see most players warm up were afforded this opportunity to watch a player go through his routine.
But Thomas isn't just any player.


He's one part mystery and one part currency, the tangible return in a late-summer trade that saw Kyrie Irving get dealt from the only team he had played for in his six-year career.
While Twitter GMs fetishize the draft pick the Cavs received in the deal, it's Thomas who is the All-NBA player who has the potential to help Cleveland win their second championship in three years. It's Thomas who Allen Iverson once called "The Future." And it's Thomas who to this point has only played against the Cavs.
Yet here Cleveland fans are, captivated by a player who has yet to wear a Cavaliers jersey taking practice shots with his son on a nondescript Saturday in December as he continues to work his way back from the floor after falling victim to a hip injury late last season.
"I think a lot of the hype around him is him coming back from the injury," Cavs forward Kevin Love told DIME. "People love a good comeback story. Part of that is having a big chip on his shoulder too. I think people appreciate that. And it's for all the right reasons too. He wants to come out there and help his team."
The lasting image of Thomas as it pertains to the Cavs comes in the form of a moment late in Game 1 of the 2017 Eastern Conference Finals. It's Thomas, all five feet and nine inches, with his arms draped around the torso of LeBron James, his body in the shape of an L as he leapt into the four-time MVP in hopes of thwarting a dunk attempt. Thomas' facial expression says it all as the then-Celtics guard effectively rode James as if he were swimming with dolphins as the 270-pound forward rose to the rim.

Since arriving in Cleveland this past summer, Thomas has made a pastime out of surprising fans. Earlier this month, it was Thomas arriving unannounced to a local grocery chain on the near west side to scan purchases while his teammate, J.R. Smith, acted as a bagger. On Wednesday, he snuck up on a few dozen children from the local Boys and Girls Club as "Isaiah Claus" where later took part in a few rounds of "knockout" before playing a couple quarters of NBA 2K18.
One day later, it was Thomas who surprised fans by coming out with the team, dressed in a Cavaliers uniform, and took part in the pregame layup line as a member of the active roster. While the Cavs would not call his number during the game, it was the first time Thomas was a part of the team on a game night serving as the next step in his comeback story.
In a recent video posted to The Player's Tribune, Thomas inferred that his hip injury may have been mishandled during his final months in Boston. The Cavaliers sputtered out of the gate this season, and were dealt a brash of injuries to their backcourt, but have since played well without Thomas. While Jose Calderon has stepped in as the team's starting shooting guard and Dwyane Wade has run point with the second unit, the Cavs sit just one game back of the conference-leading Celtics, lessening the burden of the point guard having to return to the floor sooner than he otherwise would.
"It was definitely a little pressure at the beginning when we didn't come out playing so well," Thomas told DIME. "Now that we're in control of our own destiny, and we've been playing really well, there's really no pressure in coming back. I want to make sure I'm 100 percent ready and 100 percent right where I have no setbacks. When that time comes, I'll be out there playing."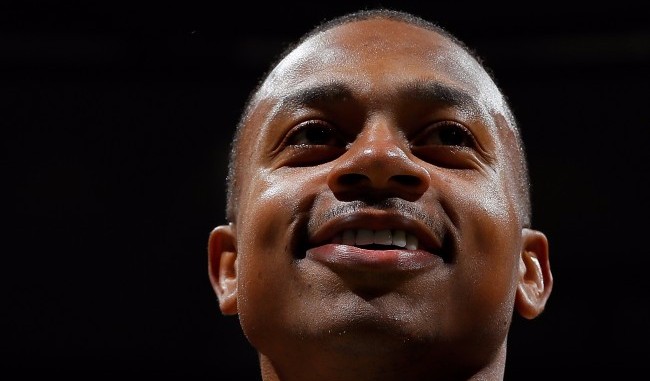 Until that time comes, Cavaliers fans will be forced to speculate as to when Thomas will return and how he will fit with his new team. As Love stated, fans love a great comeback story and Thomas has the potential to be just that. Notified of the trade as he returned from celebrating his anniversary, months after playing through the very injury that has shelved him for the first half of the 2017-18 season, Thomas' motivation simply adds fuel to the fanfare which surrounds him.
"I'm new to this city, but it's genuine," Thomas said. "It's about making others happy and putting smiles on faces no matter what city I'm in no matter if I'm playing or not. I know everybody wants me to play so soon, but people have been so supportive waiting for that time to come."
First it was pregame warmups within minutes of the opening tip. Not long thereafter it was running out of the tunnel with his teammates, unannounced, to take part in the layup line. While there is no telling what Thomas' next act in his litany of surprises will be along this comeback trail, smart money would be on it coming in the way of having his number being called to take part in his first NBA game in over six months.
Assuming all parties have executed upon their initial plan, it should be well worth the wait.