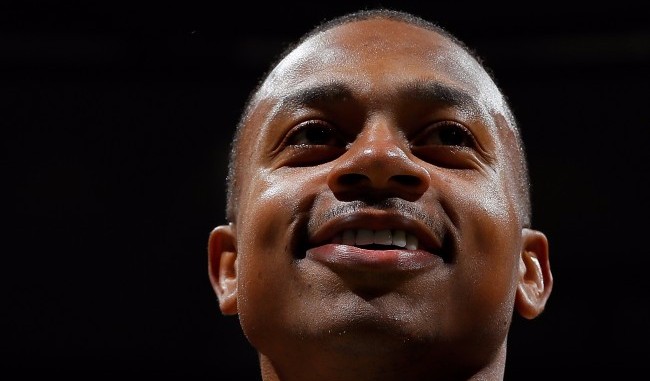 Isaiah Thomas returned to action on Tuesday evening, as the All-Star point guard made his debut with the Cleveland Cavaliers. While it was impressive enough that Thomas was simply able to come back from a well-documented hip injury, his on-court performance was wildly impressive and greatly aided in Cleveland's 127-110 home victory over the Blazers.
When he checked in for the first time in a Cleveland uniform, Thomas received a rousing standing ovation and, following the game, the veteran reflected on the atmosphere in that instant.
It certainly wouldn't be a regular occurrence to have a new player welcomed in that fashion but Thomas has a magnetic quality that has helped to make him a fan favorite in previous stops, most recently in Boston. Because of the ailment and his diminutive stature, it is easy to see the kind of work Thomas would be required to put in when it comes to his recovery and getting to a place for basketball contribution. In short, it seemed clear that the Cavs fan base appreciated his efforts.

Cleveland's home crowd wasn't alone in believing Thomas deserved what he received, as LeBron James weighed in with similar thoughts.
Thomas playing very well (scoring 17 points in 19 minutes) certainly did not take away from what was already an incredible scene at Quicken Loans Arena and he remains quite easy to root for. Not every night will be this breezy for Thomas in his quest to return to his previous All-NBA level, but this was a strong start.