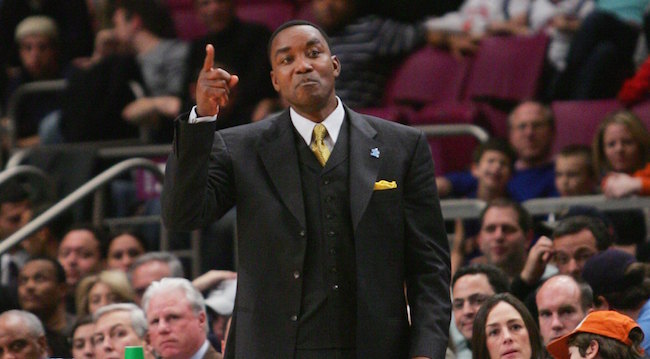 With the NCAA Tournament starting this week, TNT's Monday night broadcast was another "Players Only" affair, as the regular crew was out preparing for March Madness coverage. That meant Isiah Thomas, Baron Davis and other former players took over the TNT airwaves for the studio show, and when the players are in charge, there's more on-court demonstration.
Thomas, who last time he was on the "Players Only" broadcast broke down how his Bad Boy Pistons teams would match up with the Warriors, decided to give a little defensive tutorial on locking up on the perimeter. Thomas had Baron Davis serve as his test subject and showed how he can move to beat the offensive player to the spot. The advice was great, but what was even better was that Thomas got into hoop mode a little too much and told B-Diddy to "shoot that sh*t" forgetting he was on live television.
You can hear Davis and the rest of the crew burst into laughter when Thomas says that, and then Thomas swats Davis as Davis almost falls over in laughter. The "Players Only" broadcasts aren't always the smoothest, but they've been a success for TNT as the players are clearly very comfortable interacting with each other and often provide really good insight. The biggest issue it seems is that, like Thomas on Monday, sometimes they might get a little too comfortable and forget they're on TV.