Jabari Parker won't ever live up to pre-draft scouting reports. Even before his admittedly promising rookie season was cut short by a torn ACL in mid-December 2014, it had become clear the Milwaukee Bucks forward wasn't quite the ready-made NBA scorer so many believed him to be following an award-winning season at Duke University.
Parker doesn't have the athletic verve or overall skill set of natural-born alpha dogs like Carmelo Anthony or Kevin Durant. He lacks the short-area quickness to consistently beat opposing wings off the bounce or defend them full time on the other end, and his jumper isn't anything close to its initial description as a finished product. The 20-year-old has a limited repertoire of moves and counters on the perimeter and in the post.
But the player Parker is not doesn't matter anymore. And while the one he's turning out to be for the rejuvenated Bucks could still underwhelm compared to years of megastar expectations, it's obvious the second overall pick of the 2014 draft will be a driving force behind his team's imminent success nonetheless.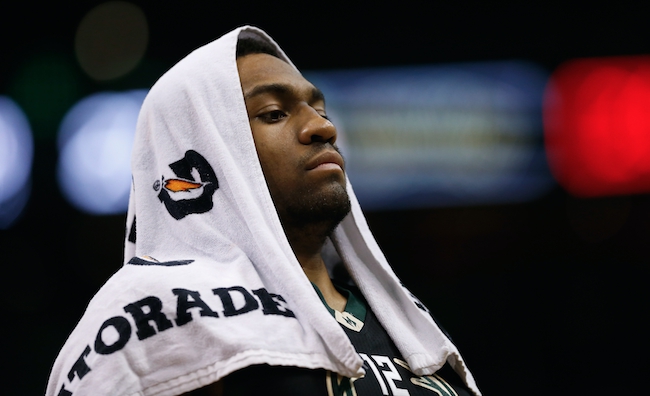 Acknowledging the circumstances behind Parker's once-underwhelming sophomore campaign is pertinent to understanding those of his meteoric rise. He was never expected to light the league on fire in 2015-16. All players coming off serious injury deserve a grace period while re-acclimating to the speed and intensity of the game – especially youngsters whose NBA careers are barely in their infancy. Parker played just 25 games last season, and returned to a team on November 4 that looked much different than the one he left almost a calendar year earlier.
Milwaukee's changed drastically in the interim, too, and that's what accounts for Parker's ascent more than anything else. Jason Kidd's normal starting lineup during the season's early going left his pair of über-promising forwards without any space to create. Parker and Giannis Antetokounmpo, to be sure, were part of the problem – they still are. Neither player will come close to scratching the surface of his sky-high potential if he fails to become a legitimate threat from the outside.
But playing a non-shooter like Michael Carter-Williams and paint-clogger like Greg Monroe alongside Parker and Antetokounmpo stifled their respective developments and led to predictable two-way ineffectiveness. Units featuring that mismatched quartet and the steadily improving, perpetually underrated Khris Middleton have been outscored by 6.7 points per 100 possessions and crawled to a snail's pace factor of 95.36.
Such a trudging brand of offense clashes head on with the individual player attributes that could make this team so scary for years to come. Fortunately for the Bucks, though, Kidd's decision to bring Carter-Williams and Monroe off the bench on February 9 has juiced his team's attack in both the open and half courts while allowing Parker, specifically, to thrive.
Milwaukee ranks 14th in pace since making O.J. Mayo and Miles Plumlee starters. The Bucks aren't the Golden State Warriors, of course, but still push the ball at every obvious opportunity. Justification behind that new strategy is obvious. The number of players Parker's size who can keep up with him in transition can be counted on one hand. He's a monster in the open floor as a creator or finisher, and has already developed synergy with Antetokounmpo that provides nightly highlights.
How many 6'8, 250-pound power forwards can make a pass like this at full speed?
http://i.giphy.com/II33NpPmBjpCM.gif
Current skill deficiencies mean Parker is at his best for now attacking a defense in flux. He routinely makes good on seemingly uncomfortable drives, using his combination of power and fluidity to keep even long-armed defenders at bay.
http://i.giphy.com/5JNUy0HBzyJ4k.gif
Parker is shooting a solid 63.5 percent from the restricted area, and that number has ballooned over the past few weeks. He's a far better finisher statistically when sharing the court with Plumlee than Monroe, too.
Guys with husky builds like his aren't supposed to explode off the floor so quickly. Parker knows his sneaky leaping ability surprises defenders, and dunks – or tries to dunk, at least – everything in vicinity of the rim.
http://i.giphy.com/Ri2h5qLLRCHXa.gif
http://i.giphy.com/11cvu8wPYrIoFy.gif
But he still has room to improve as a finisher. Parker is easily spooked by weak-side shot-blockers. He has a tendency to rush layups and floaters in traffic, and has yet to develop a reliable off hand.
http://i.giphy.com/pMoJEHSvpGhP2.gif
Basketball, though, isn't all fast breaks and soaring slams.
Those highest on Parker throughout the pre-draft process are surely shocked by his play in the half court. The player who supposedly possessed no obvious weaknesses offensively is instead crippled by the biggest one possible.
Parker is shooting just 3-of-15 from beyond the arc this season; he didn't make his first triple until late February. He's shooting a rough 33.3 percent on two-pointers outside the paint, and fares almost as poorly in pull-up situations as he does on spot-up opportunities. Parker just isn't a shooter right now.
The problem is that he too frequently acts like the stretch 4 he's yet to become. Just after abusing Dwyane Wade down low on consecutive possessions during a recent win, for instance, he let the Miami Heat off the hook by launching this long two early in the shot clock.
http://i.giphy.com/1AT46EU6hhNmw.gif
And instead of leveraging his quickness advantage against Indiana Pacers rookie Myles Turner here with a quick attack, he settles for a pick-and-pop jumper.
http://i.giphy.com/hp4K2TP6FFqs8.gif
Parker still has awkward off-dribble jumpers left in his game, too.
http://i.giphy.com/lDV4C84sPu1lC.gif
It's easy to see why he remains enamored with his jump shot, though. When Parker has time to set his feet and confidently let fly, he looks like a legitimate shooter – from mid-range and behind the three-point line.
http://i.giphy.com/xT11tGsnisXMk.gif
That's still a bad shot, by the way. There's no reason why he couldn't take one step back and make that try worth three points. Parker's smooth stroke and overall dexterity suggest he'll eventually evolve into a scoring threat from all across the floor. For now, though, he subsists on a half-court offensive profile that's more typically in line with seasoned veterans than second-year "rookies."
Parker has a supreme understanding of how to exploit small creases in the defense. He's a canny, opportunistic cutter off the ball, and boasts enough guard-type skill to be utilized in shrunken pin-downs – plays most big men are unaccustomed to navigating as primary defenders.
http://i.giphy.com/vzPgMtz7kLDy.gif
http://i.giphy.com/6m7J1yK1CnBPa.gif
http://i.giphy.com/Z7x5Qiy6qGSpa.gif
Barely more than 82 games into his career, Parker is much more accurately described as a moocher on offense than a creator. And though that's disappointing considering his longstanding reputation as a scoring savant, it also portends a more diversified game overall going forward.
Milwaukee is letting Parker take the reins as a pick-and-roll ball handler more and more of late, fully leveraging his physical advantages over slower-footed bigs in the process. Most encouraging? He's already making high-level reads as a passer.
http://i.giphy.com/NzuhnUKVcL8Gc.gif
http://i.giphy.com/rGT4puZu07Z7i.gif
There's no reason to beat around the bush: Parker needs to get much better defensively. He's a traffic-cone at the rim, gets caught ball-watching when multiple passes away, and is a step slow to help his teammates on the aggregate.
But he's much more effective on the ball, showing the type of versatility that's a hallmark of the way Kidd likes his teams to defend. Antetokounmpo's move to point guard routinely creates positional mismatches all over the floor, and Parker has shown the necessary blend of speed and length to stick with smaller players on the perimeter for small stretches.
The Bucks' wholly unique lineup construction creates cross-matches, too, and that's where a player with his rare blend of natural gifts should feast. Parker isn't yet a polished scorer with his back to the basket. Nevertheless, he dominated Wade in the post when the Heat foolishly tasked their franchise icon with checking a player several inches taller and tens of pounds heavier.
http://i.giphy.com/MTmMiQGyEiCtO.gif
http://i.giphy.com/eYL5iwr0h7aSI.gif
Monroe, it bears mentioning, was in the starting lineup for Milwaukee's most recent game. Still, that development may have little influence on Parker individually. While Monroe's demotion directly coincided with Parker's consistently eye-popping play, what seems the most likely cause of that improvement is the Bucks' general change in ideology.
Parker has used 23.8 percent of Milwaukee's possessions since February 9, according to basketball-reference, an uptick of over five points. He's touching the ball a whopping 27 more times per game since Antetokounmpo assumed full-time playmaking duties. And though Monroe's presence indeed correlates with his success in the paint, Parker and the Bucks as a whole have been more efficient in the past 13 games when that tandem mans the frontcourt.
Milwaukee's team slogan for 2015-16 is "own the future," but the team had yet to justify that rallying cry for the season's majority. By tweaking his rotation and prompting a shift in his team's pecking order, though, Kidd has helped the young Bucks embrace that motto.
And most importantly, helped Parker get back on the road to stardom – even though it's one much different than has long been anticipated.
*Statistical support for this post provided by nba.com/stats.