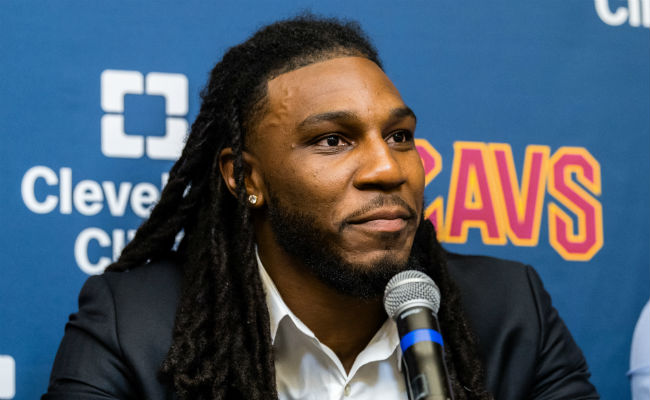 All the attention of the trade between the Boston Celtics and Cleveland Cavaliers has focused on three major pieces: Kyrie Irving, Isaiah Thomas and the unprotected pick Boston first acquired from the Brooklyn Nets and sent to the Cavaliers as part of the deal.
But Jae Crowder is a human being that was also part of the package that went to Cleveland, and when trades happen each part of the deal has a unique experience in joining a new team. In Crowder's case, it was a whirlwind day with its own unique excitement and heartbreak.
Crowder, Thomas and Ante Zizic, who was also part of the package, were introduced by the Cavaliers on Thursday. While much of the attention was on the health of Thomas and his hip, Crowder shared an emotional story about how he learned he had been traded.

Boston radio station WEEI notes that Crowder's mother, Helen, was battling cancer at the time. She died at the age of 51 the same day that Crowder was included in the trade that ultimately sent Irving to Boston and Isaiah Thomas with Crowder to Cleveland. Crowder said that he was able to tell his mother about the trade shortly before she died.
"There was a lot going on that day, obviously," Crowder said. "The good thing about the while ordeal was I was able to deliver it to my mom before she passed."
Crowder said he was relieved to be able to tell his mother what he future held, even if she would not live to see him play with his new team.
"I was with her. I told her 'We're going to Cleveland. And about five minutes later she passed."
Crowder's voice broke as he spoke of his mother's passing, but he quickly noted that the trade to Cleveland was its own blessing and admitted he's excited about his future in Cleveland.
"That day was tough. It was a good day for me, for myself, for my basketball career to move on to an organization like this, like the Cleveland Cavaliers. And to be able to put myself in a position to play for it all," Crowder said. "I couldn't ask for nothing else. I was thankful to Boston for everything that they did for me and for trading me to a team like this. I was thankful for that opportunity. But yeah, that day was pretty wild."
Losing a family member is always difficult, and I can't imagine having to deal with important career news on the same day as losing your mother. But Crowder handled the question well, and he genuinely seems ready to make an impact on the Cavaliers. He's definitely going to have a lot of goodwill in Cleveland this upcoming season.