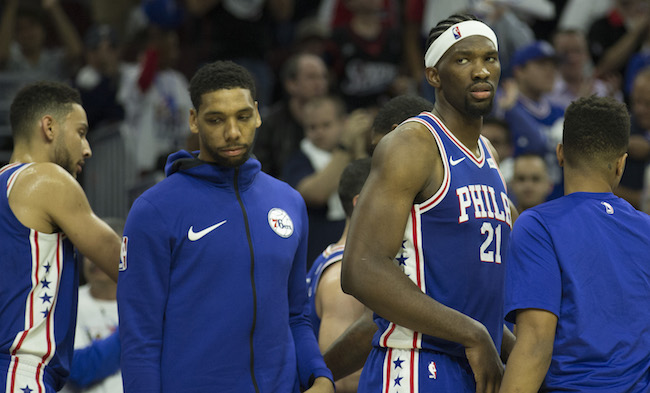 The Sixers and Warriors played a wild game on Saturday night in Philadelphia, with both team managing to post 47-point quarters (the Sixers in the first, Warriors in the third) in a 124-116 Golden State win.
While the Warriors avoided a second straight loss to start their east coast road trip, the Sixers learned the hard way how good the Warriors are when motivated. Kevin Durant found motivation in the form of Sixers center Joel Embiid's merciless trash talk, saying after the game how they really didn't want to allow Embiid to start "talking sh*t" on Twitter after the game.
While Philadelphia wasn't able to get the win and unleash a jubilant Embiid on social media afterwards, their performance was a great example of how good their young core can be as Embiid and Ben Simmons looked fantastic, especially in that first half. As has been the case all season, the most notable DNP for the Sixers was former No. 2 overall pick Jahlil Okafor who has still appeared in only two games this season and is petitioning for a trade or outright release soon.
The Sixers haven't met Okafor's wish, citing the need to get something back in exchange for their former top pick, but it's a situation that's frustrated and disappointed the young center. Okafor being upset with his status with the Sixers is understanding, and while he's been diplomatic throughout the entire ordeal, his father made sure to let everyone know he still wants out on Saturday night by wearing a "Free Jah" shirt.

It shouldn't come as any surprise that Okafor's dad has his back and would wear this shirt to the game, but it's another message being sent to the Sixers' organization that they want something to be done soon about the issue. Okafor will be an unrestricted free agent next summer after having his option declined by Philly, and he'd like the chance to prove himself on the court, which won't be possible so long as he's on the Sixers' roster. To this point, Okafor has spoken with the media when asked about it and let his wishes be known, but as this situation lingers it will be worth watching how both parties handle it as the trade deadline looms.