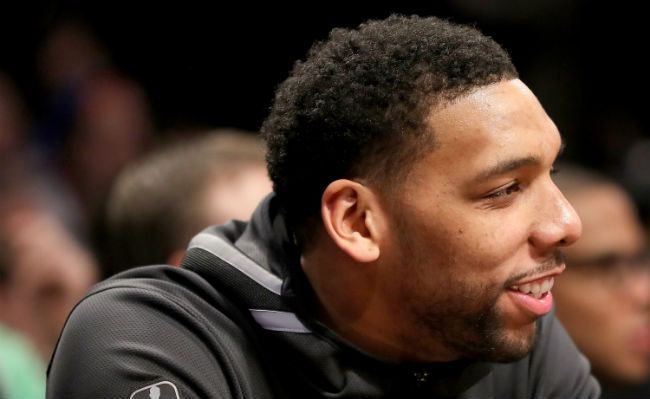 Jahlil Okafor is doing better than he was a few months ago. He started the season lovingly holding a basketball in a Sixers uniform, unable to get on the court. Then he was abandoned on the bench while Joel Embiid led chants of "Free Jah" on the sideline.
He was finally traded to Brooklyn in December, and his now-former Sixers teammates said they'd be ready to see him on the court for the Nets when the two Eastern Conference opponents square off. With that matchup coming, and Okafor getting more minutes with Rondae Hollis-Jefferson out with a groin injury, it seems Okafor is more than happy in Brooklyn.
Ahead of the Sixers-Nets matchup on Wednesday, Okafor was asked about his new team and how he's come to terms with his tumultuous time in Philly. He said the team, and the city, has felt like "home for him."
Via NetsDaily.com:
"I'm not treating it like a tryout, I'm treating it like it's my home," Okafor said according to NetsDaily.com. "They welcomed me with open arms, and that's all you can ask as a basketball player. They're taking the time to develop me. They're showing me a lot of love and care."
Okafor always seemed more comfortable in New York, and he was famous for taking the train to see movies in New York while he was rehabbing his injury. So maybe Brooklyn is best for him. But according to NBC Sports, his former teammates said it will be "weird" to play against him and former Sixer Nik Stauskas in different uniforms.
"Just to see them on another bench and subbing in against us, it's going to be really weird," T.J. McConnell said. "I'm especially close with Nik and Jahlil so playing against two really good friends, it's going to be different."
Sixers rookie Ben Simmons was equally respectful of his former teammates, though he said he can't wait to take a run at them on the floor.
"We're going to go at them," Ben Simmons said. "It's going to be fun, though, just seeing them. But at the same time we've got business to handle in Brooklyn."