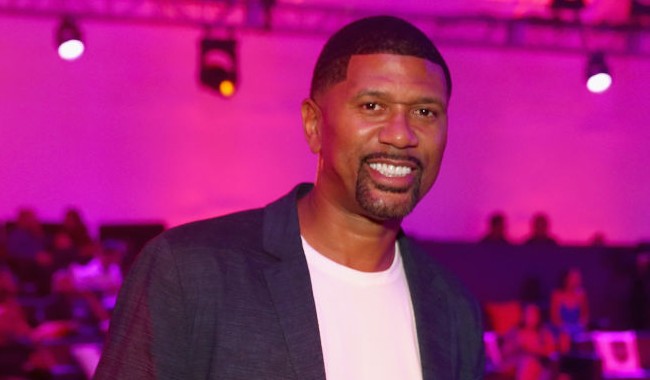 When John Beilein surprised the college basketball world in jumping to the Cleveland Cavaliers, the Michigan Wolverines were left searching for a new leader. In relatively short order, Michigan elected to hire former NBA All-Star and Miami Heat assistant Juwan Howard, bringing a (very) famous former player back to the program and reminding their fan base of the legendary days of the "Fab Five."
There was plenty of smoke that Howard could be the front-runner and, with that in mind, he received high-profile endorsements from the likes of LeBron James and Dwyane Wade. Beyond that, fellow Fab Five member and ESPN personality Jalen Rose was very candid in his support of Howard as a candidate and, when the hire was made official, Rose returned to the airwaves with a positive message about the future.
While the support of Howard was anything but new from Rose, he caused quite a stir in declaring that the Fab Five would be gathering together alongside the new head coach.

"Any time you grow up for public consumption like we've done, people have gotten a chance to see us at our highest of heights and our lowest of lows, and they've seen some discord," said Rose during ESPN's Get Up! on Thursday. "I've just got to acknowledge this on national television. Those days are over. Not seeing eye to eye … There will not be any disrespect to the program. There will be any side shows. There will not be any friction amongst the Fab Five. We're about to all come together like Voltron and make sure we do what we got to do to put us back on the top of the map."
Following a prompt from ESPN's Adam Schefter about Chris Webber and a long-standing feud between the former teammates coming to an end, Rose said "yes, absolutely. No doubt about it." Of course, it remains to be seen as to the actual dynamic that will be in play moving forward between Webber and Rose but it does seem as though the Michigan faithful are wrapped up in the maize and blue right now, and that could permeate into the consciousness of both former NBA players.
Webber has yet to weigh in plain terms about a potential Fab Five reunion that would involve a cooling period with Rose but, if nothing else, there appears to be hope on this front. Howard has plenty of work to do in keeping the Michigan program at the lofty heights achieved under Beilein's leadership but, in reflecting on the past, it certainly isn't a bad thing that one of the more legendary college basketball teams of all-time could be coming together again under one (positive) umbrella.