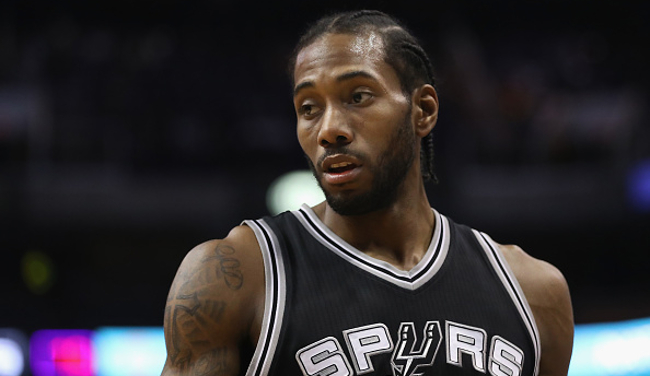 Trying to keep up with the NBA's news cycle right now is a nearly impossible task. On Monday alone we got reports that Kawhi Leonard's relationship with the Spurs was strained, Jason Kidd got fired suddenly, there were trade rumors galore and the Cavs had a team meeting in which Kevin Love got accused of faking an illness to get out of practice and leave a game early.
There's a lot going on right now, but of all of those things the rumors of Leonard and the Spurs having issues may have been the most surprising because of how their relationship has been presented over the years. While Leonard and the Spurs have had a mutually beneficial partnership throughout the start to his career, there are apparently some frustrations that are causing a rift between the two regarding his slow progress in rehabbing his quad injury.
On Tuesday, ESPN's Jalen Rose went on First Take and took things a step further than what had been reported by Adrian Wojnarowski regarding the tensions between Leonard and San Antonio. Rose said, point blank, he's heard that the superstar forward "wants out of San Antonio."

"I hate to say this. Kawhi Leonard wants out of San Antonio, is what I'm hearing," Rose said. "The reason why is tenfold. One is, they've been unable to attract elite level, All-NBA caliber free agents to come play with him. … We always talk about players going to join large market teams. … We never say, "who's going to San Antonio to go play with Kawhi?' And here's why I think players have not done that. The Spurs Way looks like opportunity dressed in overalls. It looks like work. And people don't really want that. Players talk about wanting to win and wanting to be a champion, but ultimately they want to do it on their own terms. When you go to San Antonio, guess who's the CEO of that organization? Gregg Popovich. It's going to be his way.
"So for Kawhi and also the way his injury situation was handled. You see him in the lineup. You see him out of the lineup. Is it his quad? What's going on with his history? Was he misdiagnosed? … When you talk about the next super team, it's probably going to be wherever Kawhi Leonard ends up."
Stephen A. Smith also noted he's heard the same thing, even dating back to last season that Leonard was interested in possibly going elsewhere. If that's the case, there will be 29 teams lining up to try and acquire Leonard as he's one of the league five best players when healthy and would seem to be a guy you could fit into any situation and be better for it.
Leonard is under contract through 2018-19 with a player option for 2019-20, and if this is indeed the case, the Spurs could find themselves in a precarious position this summer or at the next trade deadline, a la Indiana with Paul George, if they aren't able to reconcile with their superstar.