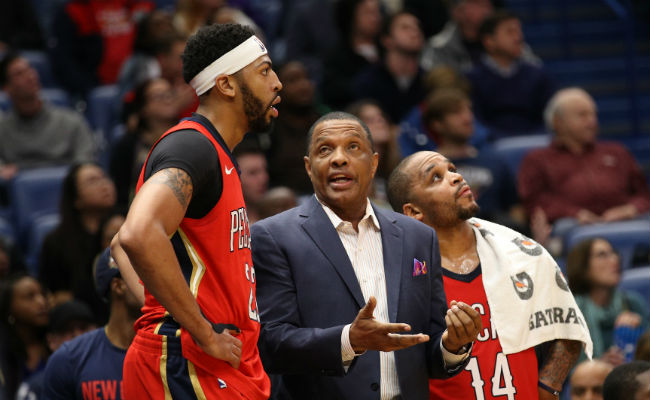 New Orleans Pelicans head coach Alvin Gentry certainly has a unique appreciation for just how good Anthony Davis has been for his team this season, but even he's picking James Harden for MVP.
The Pelicans have fought their way to a potential playoff spot in the West thanks to Davis essentially putting the team on his back in the wake of DeMarcus Cousins' season-ending injury. That performance has made some wonder if Davis is worthy of a nod for NBA MVP at season's end.
With the Rockets facing the Pelicans on Saturday, Gentry was asked who he'd vote for and told the Houston Chronicle that the Houston superstar is his pick.
"In my opinion, (James Harden) is the MVP of the league," Gentry said. "It's not even close, really, what he's doing with his team and the numbers he's putting up."

Gentry said the Rockets' record, coupled with his incredible production, is what will make Harden the MVP in the end. He did go on to elaborate on how Davis is playing like an MVP this season, but that factors being what they are with overall team success, Harden, or even DeMar DeRozan, will have the edge on The Brow.
"He's been fantastic. He's been unbelievable," Gentry said of Davis. "I think the only difference in him not being heavily, heavily in the conversation is obvious we haven't had the type of season that a Houston has had or a Toronto has had, you know with (DeMar) DeRozan and those guys. But other than that, what he's done and what he's meant to our season, it can't be expressed in words. He's truly an MVP candidate.

"We just don't have the wins that those teams have and I think that's the difference in where he is on the scale of MVP as opposed to Harden or DeRozan."
Gentry knows Davis and his impact better than anyone, but his logic is probably the same that will carry the day when voting actually takes place. Harden may not be carrying his Rockets team lately in the same manner as Davis is, powering the Pelicans to wherever they end up, but the focus on Harden's Houston squad is a huge factor in MVP voting. Either way, it's Harden's award to lose and it'd be a shock if he didn't take home the hardware in July.