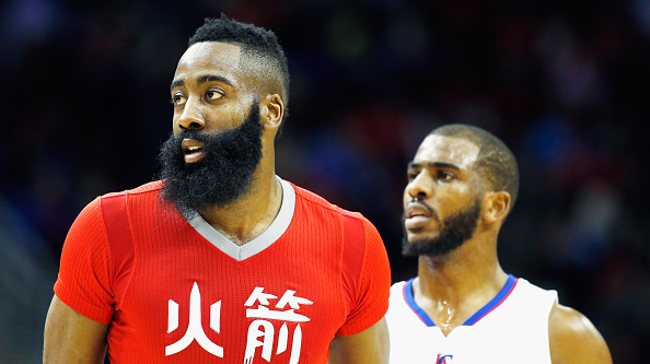 After staging a major coup in free agency this summer with the Chris Paul signing, the Houston Rockets have ostensibly positioned themselves as one of the bigger challengers to the Warriors in the West. What's incontrovertible in today's championship endeavors is the necessity of fashioning a team that features multiple All-Stars, but with that comes all sorts of questions about how to make those disparate pieces coalesce.
Paul and new teammate James Harden boasted two of the highest usage-rates in the NBA last season and operate most efficiently with the ball in their hands, so naturally, there's going to be a learning curve as they figure out how to divvy up those responsibilities. Fortunately, they're already working together to solve that riddle. Via Ben Golliver of The Crossover:
"In any relationship or partnership, you need to have communication," Harden told The Crossover from the Adidas Basketball LVL3 event in Las Vegas. "You've got to know that person. Me and Chris have communicated every single day. We've worked out several times already, just to build that relationship, that togetherness before training camp hits. Once it starts, we'll be rolling already."
They treated the basketball-watching world to the first glimpses of that partnership and what they're capable of over the weekend at the Drew League in Los Angeles, and although it's scarcely more than a glorified pickup game, it's an excellent opportunity for the superstar pairing to start developing that aforementioned chemistry both on and off the court.