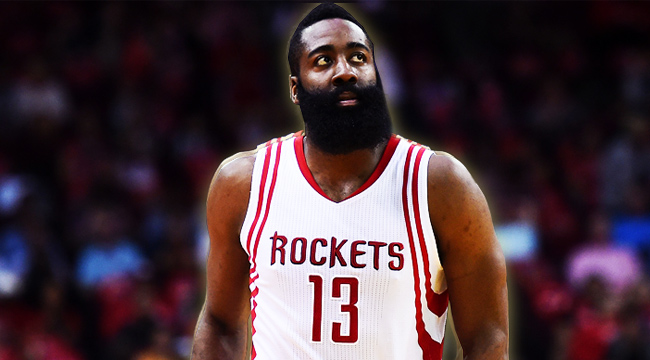 James Harden's image and career have been in a perpetual state of rehabilitation the past few years. From his derisive comments about teammates, to his inability to coexist with Dwight Howard, to his well-documented (if not over-exaggerated) defensive issues, the Beard hasn't exactly endeared himself to a large portion of the basketball-watching public.
When things in Houston reached their nadir toward the end of last season as the Rockets failed spectacularly to live up to expectations, an organizational shakeup was not only inevitable – it was necessary. They didn't even have to fire J.B. Bickerstaff. The fact that he resigned of his own volition was a sign of just how bad things had gotten. Howard, likewise, couldn't wait to seek a new opportunity elsewhere.
Bringing in Mike D'Antoni as head coach was, understandably, met with a healthy amount of skepticism. The Rockets had struggled defensively, and D'Antoni's frenetic "seven seconds or less" offensive philosophy had historically been synonymous with lackadaisical efforts on the other end of the floor.
So when he announced that Harden would take over as point guard on a full-time basis this season, it felt like confirmation that the Rockets were fully embracing the rather dubious and problematic approach of simply trying to outscore their opponents.
So far, though, the joke's been on us.
It's a small sample size, but the early returns are hard to argue with. As expected, the Rockets aren't very good at stopping their opponents. They rank 26th in defensive efficiency, but they've won five of their last seven games and currently hold the fourth spot in the Western Conference standings. That's in no small part because they boast a top four offense (110 points per 100 possessions), trailing only the Warriors, Raptors, and Cavs. They're also one of the best (and most trigger-happy) three-point shooting teams, ranking fourth in overall efficiency from behind the arc.
The catalyst for all this, of course, has been Harden, who is a top five scorer in the NBA at 28.7 points per game. What's more impressive, however, is his league-leading 11.9 assists per contest. Much of this can be attributed to the increased workload from operating at the point. Harden has the sixth highest usage rate of anyone in the NBA and is top four in minutes per game. It was perfectly logical that his numbers would see a spike this season.
But none of that sufficiently underscores just how good Harden has been. After failing to make an All-NBA team last season, he's now back in the MVP discussion, and his all-around stellar play has threatened to put him back in the good graces of even his most vehement detractors. It's due largely to his mostly seamless adaptation to D'Antoni's system and a whole new set of responsibilities.
Running the point is probably the most difficult job in basketball, not to mention in many ways counter-intuitive to a shooting guard like Harden with a score-first mentality. But this isn't his first rodeo. As Harden himself pointed out last season, he's been Houston's de facto point guard for significant stretches the past few years as Patrick Beverley has battled various injuries, and even with a point guard on the floor alongside him, the offense always runs through Harden.
If that experience wasn't enough, all he had to do was look around the league at the current crop of offensive-minded point guards like Steph Curry, Russell Westbrook, Damian Lillard, Kyrie Irving, Derrick Rose, and others to see how they've laid the blueprint for success. The perceived effortlessness with which he's made the transition has been stunning. Not only does he lead the league in assists; he leads the NBA in points created off assists at 28.6, three points more than Westbrook, who comes in second with 25.8.
Going into the season, D'Antoni told reporters that he'd like to see Harden double his assists per game from 7.5 to 15. Harden laughed it off at the time, saying "coach trippin.'" So far, he's reached or exceeded 15 assists in a staggering six games. Westbrook has five such games. They combine for 11 of the 14 times a player has reached that mark. Nobody else in the league has done it more than once.
To be certain, the experiment hasn't been without its hitches. Harden also leads the league in turnovers per game at 5.5, but as with Westbrook — who is tied with him at 5.5 per contest — it's just something that comes with the territory when you factor in such a high usage rate.
Harden is an absolute wizard in the pick-and-roll, and his innate ability to draw pressure and collapse opposing defenses is opening up all sorts of easy opportunities for his teammates. Clint Capela, for instance, has been a frequent benefactor. He's second in the league in field goal percentage at 62.3, mostly because the majority of his points come off lob passes from Harden.
Trevor Ariza is likewise taking and making more three-point shots this season, and the fact that he ranks fourth in the NBA in points off catch-and-shoot scenarios is another testament to Harden's aptitude for setting up his teammates. Ryan Anderson, another three-point specialist, also ranks in the top 12 in that category and is shooting better than 40 percent from downtown.
But when this iteration of the Rockets matches up against a solid defensive team that can also score, the results are troubling. That's what happened on Tuesday night in Houston's 120-101 loss to the Jazz. The Rockets are one of the worst teams in the league at guarding the three-point line, and they let the Jazz shoot nearly 54 percent from long-distance.
Utah, meanwhile, was able to mostly neutralize Harden's impact, pestering him into 8-of-23 shooting from the field, which coincided with Ariza going 0-of-4 from behind the arc. The Jazz were perfectly content to let Eric Gordon run amok, scoring 24 points, including 4-of-9 from downtown, but he also logged just one total assist.
When Harden isn't filling the box sheet with outlandish numbers, the Rockets struggle. D'Antoni has insisted that he wants this team to get better defensively, and having Beverley back will certainly help in that endeavor, but even he acknowledged that, given their personnel, they'll likely never be more than a middling team in that department.
Their inability to slow down elite offenses, especially in the West, will ultimately be their undoing when the playoffs roll around. That won't stop Harden from putting up otherworldly numbers and entertaining League Pass viewers all over the country along the way.