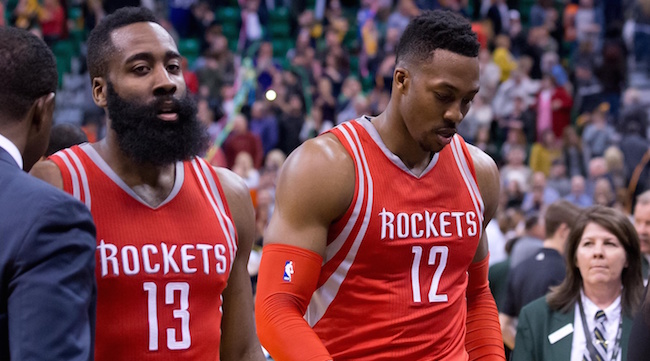 The Houston Rockets were a popular dark-horse championship pick at the beginning of the season. A healthy Dwight Howard paired with James Harden and newcomer Ty Lawson was supposed to make the Rockets a serious threat in the West. The Rockets have instead been a miserable disappointment, plagued by injuries and toxic chemistry, with Houston's two stars at the center of that toxicity.
According to Ken Berger of CBS Sports, Harden pushed for the organization to fire Kevin McHale. Once he accomplished that goal, he tried to wield his influence even further by forcing the franchise to trade Howard.
Multiple league sources told CBS Sports that Harden pushed management to dump McHale, and has since angled for the Rockets to trade Howard. Rockets GM Daryl Morey delivered on the first demand, but was unable to find a suitable deal for Howard at the trade deadline this month.

"It's really bad for the locker room dynamic," a person familiar with the situation told CBS Sports. "If everybody knows that James Harden can fire you or trade you, are you going to pass the ball to Dwight or are you going to pass the ball to James Harden?"
It's not uncommon for superstars to have a say in certain personnel moves the franchise attempts to make. As Berger reports in his article, Kevin Durant and Russell Westbrook are at times consulted on trades and what not.
Harden's move is different, and certainly more destructive. He actively campaigned for McHale to get fired, and forced the franchise to choose between two of its stars (that choice is not a hard one – Howard, though still effective, is not what he once was, while Harden is still in his prime).
As if the Rockets' chemistry wasn't poisonous enough, they now have to play with this knowledge in their minds. We're sure they'll get along great.