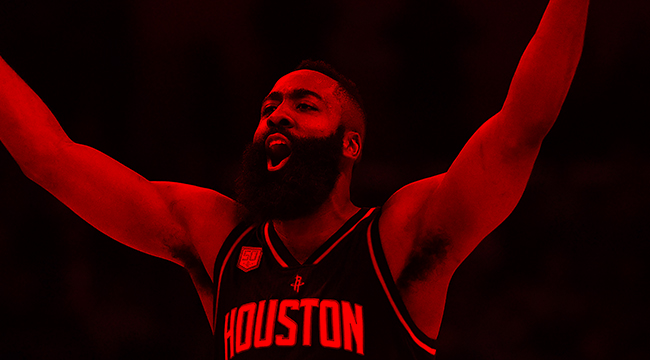 As much as James Harden's game changed under Mike D'Antoni last season, he still relied on isolations to create nearly a quarter of his offense. He didn't lead the league in isolation frequency — that honor went to Jamal Crawford and Harrison Barnes — but nobody scored more points in isolation than Harden on the season. It wasn't much different from the season before, when Harden finished at the top of the NBA in both isolation frequency (24.2 percent) and isolation scoring (524).
For perspective, Harden's volume in isolation is usually greater than half of the teams in the NBA. With 537 isolation points last season, Harden outscored 13 teams by himself. It was a slight decrease from the 2015-16 season, when Harden outscored 15 teams in isolation. Considering he ranked in the 74.2 percentile with 0.93 points per possession in 2015-16 and the 76.3 percentile with 0.97 points per possession in 2016-17, it's generally an efficient way for him to create points for himself and others depending on how teams choose to defend him.
Harden's ability to break his defender down as easily and frequently as he does begins with his pull-up. He attempted 554 pull-ups from the perimeter last season and converted them at a 33.2 percent clip. The former was the highest mark in the league, besting even Stephen Curry's 413 pull-up attempts from the 3-point line. Harden isn't necessarily the most accurate shooter in those situations, but being able to make one in every three at his volume (6.8 pull-up 3-pointers per game) forces the defense to account for him far beyond the 3-point line.

Otherwise, Harden will confidently step into a 3-pointer off the dribble:
To make his pull-up harder to read, Harden likes to mix in some sort of dribble before he gets into his shooting motion. He can shoot over most backcourt defenders with his height and high release, but doing so buys him some extra room to get his shot off. It's perhaps best illustrated below, with Harden combining two crossovers to get John Wall moving backwards. While Wall begins the sequence with his toes at the 3-point line, he's in between the perimeter and free throw line by the time Harden pulls-up, giving him more distance to cover on the closeout.
Sometimes that move is even more subtle. Notice how Terrance Jones' right knee buckles ever-so-slightly following Harden's hesitation on this possession. He recovers well enough to contest Harden's shot, but the slight pause prevents Jones from being able to block it.


Harden is also comfortable creating space between himself and his defender with step backs. According to NBA Savant, he attempted 132 shots following a step back last season and made 64 of those opportunities for a success rate of 48.5 percent. Not only did he lead the league in step back attempts, only seven players attempted more stepbacks than Harden made: Paul George (71), Harrison Barnes (73), Russell Westbrook (76), CJ McCollum (78), Stephen Curry (78), Wesley Matthews (79) and Kemba Walker (86).
Harden prefers moving towards the right side of his body when he steps back because it's a more natural motion. Most right-handed players do the opposite by moving towards the left side of their body for the same reason. The difference is being one of the few left-handed players in the NBA adds an element of surprise to Harden's game. So does the fact that he can create stepbacks in a variety of ways, whether it's following a crossover between his legs or behind his back.
Harden isn't limited to shooting 3-pointers off the dribble either. Although a small portion of his scoring comes from midrange nowadays, he is capable of pulling-up between the perimeter and rim. He made 39.7 percent of his midrange pull-ups last season on 2.7 attempts per game. It makes him especially hard for bigger players to keep up with on switches because they have to defend his pull-ups from the perimeter, his pull-ups from midrange and his drives to the basket.
Even if they are successful at taking two of those options away, the third one can be a backbreaker due to how effortlessly Harden creates space.


The threat of Harden's shooting alone can be enough to open up driving lanes to the basket, but he does have one crossover in particular that he uses to break defenders down in isolation. Although the combination varies, it usually involves a crossover between his legs followed by a regular crossover. Harden can then attack with a pull-up or dribble drive based on how the defense responds.
It's basically Harden's way of sizing up his defender and taking whatever option they give him, which is why his ability to score at three levels makes him one of the best 1-on-1 scorers in the NBA. If the defender reacts by backing off of him, for example, Harden can take advantage of the space with a pull-up or step back:
If they react to the first crossover, Harden can use the second one as a springboard to launch himself towards the basket:
If they don't react to the first crossover, Harden knows he can blow past them by performing the same crossover again:


And if they continue to backpedal in an attempt to stay in front of him, Harden can combine multiple crossovers until they bite:
Making matters more complicated for the defense is Harden has mastered how to bait defenders into fouling him. According to NBA.com, Harden drew a shooting foul on 14.7 percent of his isolation possessions last season. Of the 10 players who joined Harden in scoring 250 or more points in isolation, only Damian Lillard (21.3 percent) and DeMar DeRozan (15.7 percent) were able to get to the free throw line at a higher rate. It's a big reason why Harden can continue to lead the league in isolation scoring without sacrificing efficiency.
There are still times when Harden relies too heavily on isolations to create scoring opportunities in the halfcourt, but it's a tremendous weapon to have in today's NBA. Not only can he break down less nimble defenders on switches following a pick-and-roll — something that became a staple for the Cavaliers between LeBron James and Kyrie Irving last season — Harden has the ability to create something out of nothing at the end of quarters or the end of games when the Rockets desperately need a basket.
While it's possible he won't score as frequently in isolation this season now that Chris Paul is on the team, it'll forever be one of his go-to plays because of how dominant he is when he puts a defender on an island.