Maybe the league's best defensive team is just an especially good matchup for James Harden.
The bearded superstar has sliced and diced the Golden State Warriors for 76 points and 18 assists on 58.5 percent shooting through the first two games of the Western Conference Finals, nearly leading his Houston Rockets to a pair of comeback victories at the hallowed grounds of Oracle Arena.
But he couldn't quite pull it off earlier this week, and came even closer to doing so Thursday before falling just short in a nail-biting 99-98 defeat. Harden and the Rockets leave the Bay Area down 0-2, forced to try and become just the fifth team in league history to win a conference crown after losing the first two contests of the deciding series.
Regardless of the Conference Finals' ultimate outcome, Harden's Game 2 will eventually be forgotten — it will be just a tidy footnote should the Warriors advance with relative ease, or even less if Houston defies the odds again to take the West. History doesn't remember all but the truly greatest losing efforts, and his lacks the immediate singularity to earn that distinction – the nearly-as-brilliant performance of Steph Curry made sure of that.
But Harden's incredible play in Game 2 belongs in the pantheon of all-time playoff performances nonetheless. The numbers certainly warrant that distinction; Harden joined Michael Jordan as the only player since 1985 to score 38 points, grab 10 rebounds, dish nine assists, and swipe three steals while shooting 60 percent from the floor in a postseason contest. Precedent, though, still doesn't quite do Harden's night justice.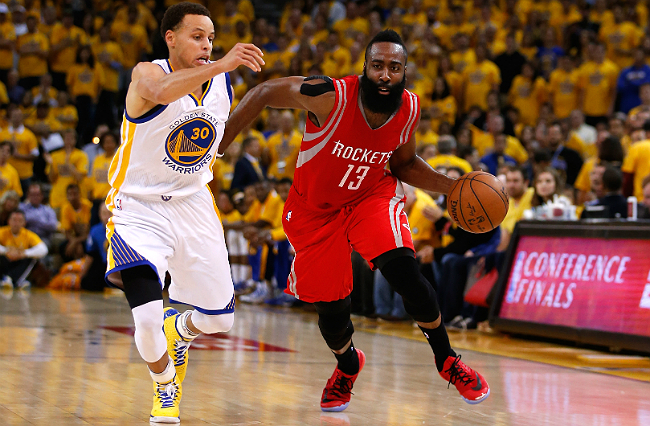 As Golden State grew its lead to 17 points after a mesmerizing early second-quarter bonanza, the Rockets appeared done. The Warriors were running and splashing and Oracle was roaring, setting the stage for a second half that would be something far closer to 24 minutes of celebration than heated competition. Harden, though, wouldn't let it happen.
The Rockets trailed 49-32 when he finally came off the bench with 7:33 left before halftime, yet had evened the score at 55 by the time the intermission buzzer sounded. How? Twelve points, four rebounds and three assists from their best player, including an eye-popping individual run that had Houston fans across the country cooking.
And as the home team threatened again and again to pull away in the fourth quarter, it was Harden who always brought the Rockets back. An off-dribble trey with 2:41 remaining to counter Curry's wild shot on the other end, quiet a frenzied crowd, and cut the Warriors' lead to 94-89; a slick pick-and-roll split and dunk that put his team down five again as the clock read 1:13; and a pin-point lob pass to Dwight Howard while under duress with just 33 seconds left to make Golden State's lead to one.
Harden scored or assisted on all nine of Houston's final points as they crept back from a 94-86 deficit, even surpassing the kind of all-encompassing offensive impact we've come to expect from him – and he did it in his team's most important stretch of the season. Such an incessant burden, pressure of the situation, or exhaustion looked to have overwhelmed him, too.
Or at least that's what this game's bungled final possession would lead you to believe is occurring in the timeout above. But an opposing development is maybe more likely – that Harden was tapping into a part of himself reserved only for the type of legend so many detractors won't ever let him become.
As he dribbled up the floor after Harrison Barnes' errant reverse layup in Game 2's waning seconds, it was suddenly easy to see what would happen next: Harden finding the Rockets a desperation, game-winning and perhaps series-saving score. It would be the kind of milestone about which basketball fans would wax poetic forever, when a player abruptly evolves from star to icon and becomes something even bigger than himself.
But that's not how it happened. Harden picked up his dribble, passed to Dwight Howard, got the ball back and quickly lost it upon being double-teamed by Curry and Klay Thompson. Game over.
From a narrow lens of lasting individual significance, it's a shame he couldn't make good on a masterful performance with a playoff moment for the ages. Yet, should there be just one takeaway from Game 2, it's that Harden's close-to-flawless play should be considered that rite of passage regardless.
Before Thursday's game, his postseason impact had been expectedly stellar; the Beard was playing like the MVP runner-up he is. But there was room for the thought he'd yet take his game to new heights the way greats always do when the calendar turns to mid-May and June. J.J. Redick and the Los Angeles Clippers, after all, clearly frustrated Harden throughout the Western Conference Semifinals even as he remained Houston's bellwether offensive force. And following his awesome Game 1 against Golden State, it was still obvious there was another step for Harden to take.
And not only did he do it Thursday, but he made it look easy, too.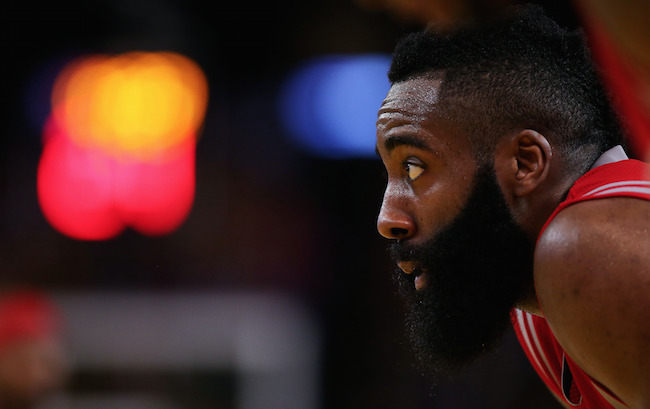 The Warriors really might be naturally ill-equipped to deal with Harden. His game is one-of-a-kind, and Thompson and the rest of Steve Kerr's gifted wing defenders may not be able to figure it out. They certainly aren't the first he's victimized, and definitely won't be the last.
But there's also a chance Harden has reached rarified air currently occupied only by a peak LeBron James and healthy Kevin Durant – where the remarkable appears inevitable because that normally proves the case. Chris Paul has been hovering over it for years, and Curry is well on his way there.
In spite of the Rockets' loss and that unfortunate final possession, what we'll remember most about Game 2 is Harden's splendor allowing for that possibility. If he's to bring Houston back from this deep hole and win the West, he'll need to do more than that alone.
And for the first time ever, it seems like Harden just might be capable of such a feat.
(Via Basketball-Reference.com)