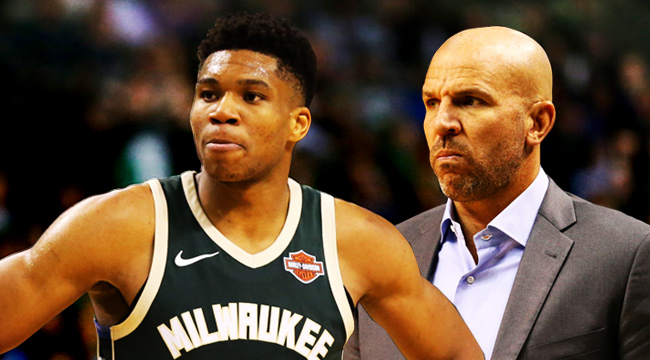 On occasion, Jason Kidd falls into spastic fits and starts Gary Payton II in professional basketball games. Last week, he sent an 84 percent free throw shooter to the line in crunch time on purpose. His logic? Better to let the Pistons, who trailed by four at the time, get twos at the free throw line as opposed to threes. In fairness, the Bucks — outside of Giannis Antetkounmpo — are an excellent free throw shooting team, and the Pistons had just nailed two triples in a row. And the Bucks won.
In Kidd's rookie season as a head coach with the Nets, Brook Lopez, the team's best player, broke his foot amid a 9-17 start. In a moment before it was fashionable, Kidd resorted to slinking all his starters down a spot, which put Kevin Garnett at the center and Paul Pierce at power forward, and switching everything defensively. They thrived on small ball and fast hands. Two years later, in Milwaukee, Kidd started a gangly 6'11 prospect from Greece, a lanky bundle of potentially, at point guard. So proceeded a season of mistakes that led, eventually, to The Greek Freak.
All of which is to say: Jason Kidd is a different type of dude. He has been a different type of dude to varying degrees of success and failure, and after years of experimentation in relative obscurity, he has never seemingly failed as publicly as he is right now, courtesy of the spotlight that accompanies being charged with developing the best young talent in the NBA.
Antetokounmpo's growth has accelerated Milwaukee's timeline, so the criticism of Kidd might just be a case of pulling a chicken out of the oven after fifteen minutes and wondering, with incredulity, "Hey, why's this thing undercooked?"
On the other hand, three-and-a-half years in, it's reasonable to wonder whether time is an antidote. To that end, the addition of Eric Bledsoe might be the only reason management hasn't burnt this whole thing down yet.

When Kidd arrived in Milwaukee, he implemented a high-pressure defensive scheme wherein Milwaukee's long-limbed personnel — and there are so many of them — trapped opponents at the top of the key, creating turnovers by submission. If it got further, those turnovers came by commission, laying traps in what seemed, at the moment, like an open pass. They'd coax drivers toward the rim, providing an opening only to close it with the extended arm of Giannis. Or Maker. Or Henson. Or Bledsoe? Snell? In essence, the Bucks created self-inflicted openings to swat them away.
The basic idea: Deny everything. The vision was admirable. In practice, it was a mixed bag. After gripping League Pass nerds in 2014-2015, the unconventional style became increasingly solvable. Last year, the Bucks ranked 19th in defensive efficiency.
As a result, the Bucks' overzealous pick and roll defense has become a point of heavy criticism. With their wiry, quick personnel, why don't they drop the big man back and force semi-contested mid-range jumpers? Why not switch everything, like the Warriors? Again, they possess the length and speed at most positions to avoid getting burnt.
Since the Bucks traded for Bledsoe, their defense has vaulted back to the top-10. There is evidence that suggests both conservatism and aggressiveness have both had a role to play.
For one, the Bucks have damped down the extremities as of late, employing more switches and dropping back with Henson and Maker more often. On the other hand, Bledsoe, a defensive menace with impressive pick-and-roll acumen at the point of attack and as a helper, has thrived in a system that matches his aggression. After he replaced Brogdon in the starting lineup, their defensive efficiency improved by five points per 100 possessions, giving them a staggering 17.1 net rating.

With Bledsoe in the starting lineup, the Bucks block 2.1 more shots and swipe the ball 2.8 more times per 100 possessions. Opponents shoot four percentage points worse from the 3-point line and three percent worse from the field overall. As a helper, Bledsoe is both ambitious and unlikely to be beat to the spot, which is in part why the Bucks starters have fouled opponents just 20.2 times per 100 possessions since his addition. With Brogdon, that figure was 25, but the change might also be attributable to playing a more conservative style.
If there's one thing worth remembering about the Warriors system in relation to Milwaukee, it's that they didn't tailor their team to Steph Curry's whims by mere systematic change. Their personnel was a perfect fit. Forget the schemes, and there is actually something very Warriors-esque about Milwaukee's aggressive defense: The effort to build a team that is vigorously and uniquely suited to exploiting the skills of its best player.
Consider the fact that the Warriors rejected a Kevin Love-for-Klay Thompson swap. At the time, it seemed like a no-brainer: Love was more talented, and hypothetically provided more balance offensively.
Today, the best shooter of all time plays alongside a guy who might be the second-best shooter of all time. He is accompanied by another deadly marksman, Kevin Durant, and in Kerr's tenure, every player in the starting lineup has been an above-average passer. Together, they revolutionized offense in the NBA. All because the Warriors have Curry, and they doubled down on what he is able to do.
The Bucks could forget those lofty ideas. They could go the conventional route, employ any variation of role players and hang back on the fact that their best defenders will be able to makeup for any deficiencies on that end.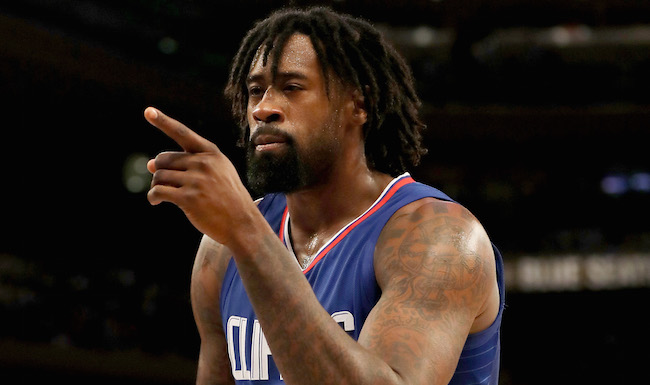 The writing, in that case, is on the wall. Go after DeAndre Jordan, one of the best drop-back defenders in the NBA. A starting lineup featuring Bledsoe, Antetokoumpo and Jordan could be the cornerstones of the lengthiest, most athletic, stingiest defense LeBron James has faced in his career.
Jordan would also mitigate Milwaukee's rebounding woes, which have been exacerbated since Bledsoe's arrival. With Marc Gasol seemingly on the market, the Bucks could reasonably drive down the price for Jordan, to something like Jabari Parker and a first-round pick. Not to mention Jordan just signed with Jeff Schwartz, which is generally a precursor to signing with Milwaukee.
Or they could ruthlessly scout and pursue players who fit their aggressive style, and see this thing out to its end. I'd be curious to know, for example, whether the Bucks inquired about Dragan Bender when they traded for Bledsoe. He's raw, but he's the kind of agile long-limbed perimeter player they should be looking to develop if they continue taking the unconventional path.
The question, at its core, is whether it's worth gambling some of Antetokounmpo's prime in order to conceivably maximize its potential.
One of the glaring issues with Milwaukee's aggressive defense has been their inability to capitalize in transition. They're 10th in efficiency, which is fine and dandy if you don't employ Giannis and take great pains to create deflections. It is staggering how much the Bucks, as a team, resort to tunnel-vision in transition. Whether it's Brogdon, Snell or Middleton, I can't count how many times I've watched them turn a steal into a tough, missed lay-up. When their better finishers are trailing the play (read: Antetokounmpo), Milwaukee needs to slow up and find the right shot. Oftentimes, their attempts are so rushed that nobody is even in position for an easy put-back.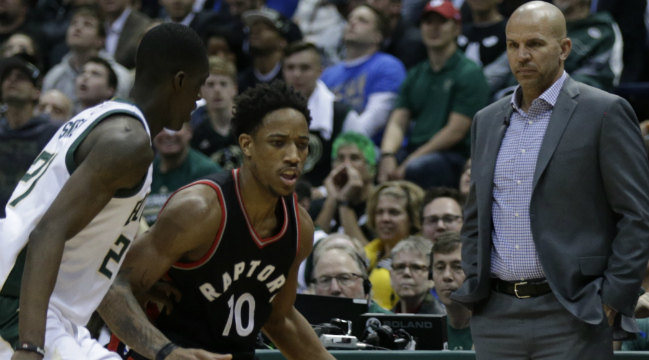 It's a minor issue in the grand scheme of things, but it hints at a lack of focus, execution and really, an understanding of what it means to employ such an aggressive scheme. In the end, it's another formula, and its success will be dictated by Milwaukee's ability to win on the margins. Right now, whether it's a matter of focus or rotations, they aren't doing that.
When the Bucks traded for Bledsoe, for example, one could reasonably assume they would phase Dellavedova out. They did, but only to give more minutes to a 40-year-old Jason Terry. This was real head-scratcher on Kidd's part, when Rashad Vaughn, a third-year swingman, could eat up those minutes.
In a vacuum, it registers that the copycat approach will be more solvable come playoff time as opposed to the tailored, personnel-specific route. And despite its pedestrian results over the regular season, the stop-everything defensive approach may fare well for a contending team. Note that despite fair weather regular season results, the Giannis-era Bucks have played the Warriors tight for years.
For three years, Jason Kidd has employed his vision. He saw a 6'9 prospect as a point guard. He eventually grew two more inches, and his unfathomable height did not inspire Kidd to take the easy route and employ a low-risk defense that could help the Bucks ride to some playoff victories. He saw a talent the league had never seen before and thought "Let's do something this league has never seen before."
That alone is impressive. Harder still is the grunt work of execution. But with execution comes enhanced scrutiny, both on Kidd and his players. That's the blessing and the curse of building a franchise your way.