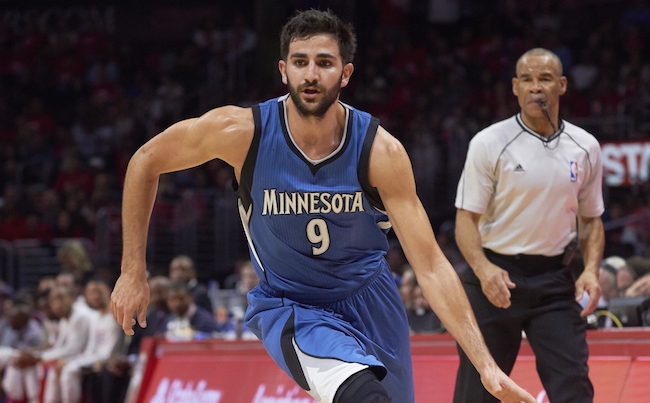 The top focus for the Jazz this summer is convincing star swingman Gordon Hayward to remain in Utah to keep together their budding Western Conference playoff contender. Hayward will meet with the Celtics and Heat this weekend, with his meeting in Utah scheduled for Monday, and before the Jazz host that meeting they need to have a roster in place that is strong enough to convince Hayward to return.
Their frontcourt is set thanks to the presence of Rudy Gobert, but with George Hill likely leaving for a bigger contract in free agency, there is a significant need at point guard. In an effort to fill that gap, Utah is reportedly in conversations with the Timberwolves about acquiring Ricky Rubio, who has long been on the trading block for Minnesota.
The deal was first reported by Shams The God, and confirmed by ESPN superstar Zach Lowe:
Rubio would be an appealing point guard for a Utah team that could use some offensive creativity. While not a great shooter or scorer, his vision and passing ability would be a welcome addition to help create looks for Hayward, Gobert, and others. It's unknown what the Jazz would have to give up to land Rubio, but previous reports about Rubio's status in trade talks pointed to the Timberwolves hoping to get shooting help in return.