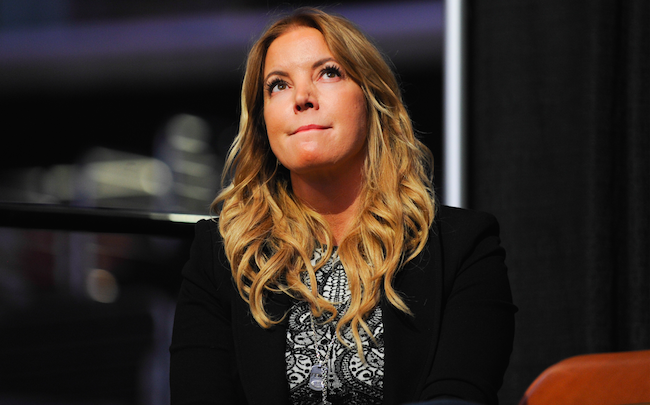 Jeanie Buss isn't happy with the Lakers' miserable season, and in a recent interview with the Los Angeles Daily News, she let it be known that she expects the team to contend again soon… or else.
"I've been assured by our basketball operations that the team will be back in contention soon. If we are not meeting those goals, then changes have to occur," Buss said in a recent interview with Los Angeles News Group in her office at the Lakers' practice facility in El Segundo. "I have no reason not to believe them when they tell me that's what they can deliver. I don't see what would be holding them back."
Well, a few things could hold them back from fulfilling that promise.
There's the roster, which is a complete mess, devoid of any real rotation players, save for Jeremy Lin, Jordan Clarkson, Julius Randle and maybe Ed Davis. Their draft history is far from stellar, and that's being kind. Jordan Farmar, their first round pick in 2006, was decent, but aside from him and Andrew Bynum (we all know how that turned out), the Lakers haven't drafted an impact player since… Sasha Vujacic? That's fine, though, because they may not even have to worry about the draft this year if they lose their first round pick (it's top-five protected) to the Philadelphia 76ers. Their training staff, for some reason still counted as among the league's elite in some circles, can't seem to keep a player healthy. Just ask Steve Nash and Dwight Howard.  Oh, and Byron Scott is still the coach.
What Buss seems to be counting on is simply the allure of the Lakers. She mentions the loyalty they've shown to Kobe Bryant, and how other players would value that, as well. There's something to that, of course, but it's hard to imagine any marquee player — whether it's Rajon Rondo or Marc Gasol — signing with the Lakers simply because of loyalty while ignoring the fact that the roster is a dumpster fire led by an on-his-last-legs Kobe.
Still, this is the Lakers, whom the basketball gods seem to smile upon far more frequently than other teams. It wouldn't be wholly surprising to see them pull something out of nowhere, perhaps landing a lower-level free agent such as Wesley Matthews or Tobias Harris, though that still wouldn't make them even close to contenders.
It's been a tough season for Buss, as it would be for any executive suddenly faced with failure after decades of sustained success. The most important thing she can do now is have patience and understand that it may take more than relying on the Lakers' brand to see her team rise to the top again.