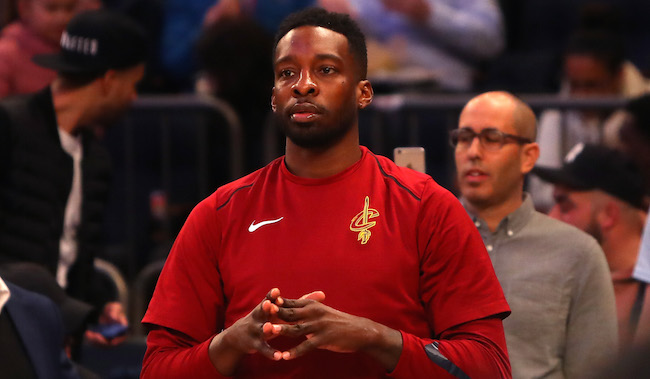 The Cavaliers trailed by as many as 10 in the first quarter of their pivotal Game 5 matchup with the Pacers on Wednesday night in Cleveland, but an 8-0 run to close the quarter pulled them to within two entering the second quarter.
Cleveland had a chance to take an improbable lead after one quarter thanks to some uncharacteristically strong defense leading to a shot clock violation by Indiana (their second of the quarter). The Cavs, trailing 25-23, had an inbounds pass with 3.6 seconds left from the sideline in the backcourt, which left enough time to take a few dribbles to get up court or make a pass or two to get a solid look at the basket.
Jeff Green inbounded the ball to LeBron James who quickly got it back to Green as he darted up court. Green got off a look from 30 feet or so, which is more than reasonable for an NBA player to think he can make. However, Green's shot didn't just miss, it missed in spectacular fashion as he heaved the ball over the backboard.

The body english from Green at the end as he tries to pull it back, knowing he chucked that one way too hard, is fantastic. This kind of miss is understandable on something beyond halfcourt, but in this case it's just embarrassing from that position. It's like grabbing the wrong club in golf and launching one over the green.
Ian Eagle was dumbfounded on the call, unsure how the ball ended up going over the backboard, but that's the magic of the NBA Playoffs. You never know what you might see.