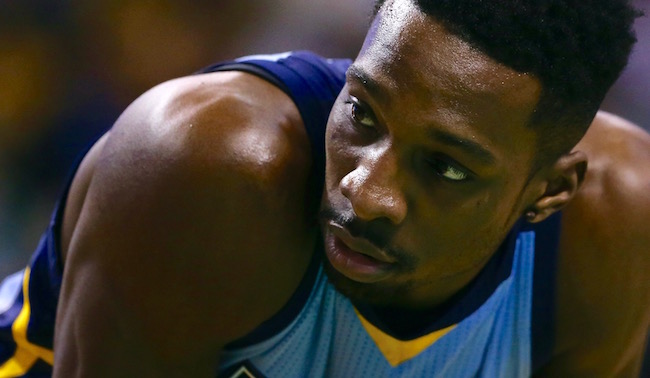 The Los Angeles Clippers finally found an athletic, versatile, and explosive wing. Now let's see if Jeff Green can give Doc Rivers' club anything more than the flashes of brilliance and steady inconsistency he did his previous three clubs.
According to ESPN's Zach Lowe and Marc Stein, the Clippers have acquired Green from the Memphis Grizzlies in exchange for Lance Stephenson and a protected future first-round pick.
Stephenson is a name, but don't let his fame fool you. He was only involved in this trade for salary-matching purposes. Born Ready is highly unlikely to make a difference for the Grizzlies, and it's just as safe to assume they'll decline his team option for 2015-16, too.
This is all about Green and the Clippers.
The 29 year old was supposed to move the needle for Memphis when the grit 'n grind crew traded for him in January of last season. But he never quite made the difference with the Grizzlies that many anticipated, and his casual approach to preparation and the game overall irritated those dedicated veterans in Dave Joerger's locker room.
Memphis, apparently, has wanted to move Green for some time, and found a willing partner in their long-time playoff rivals.
The 6'9 forward has always been a tantalizing player. He's a near-elite athlete, has a tendency for highlight-reel poster dunks and long jumpers, and can viably toggle between the 3 and 4 with little recourse. Green should be a perfect player for the the small-ball era.

But expectations of low-level stardom and even lasting positive impact have never quite materialized, a byproduct of Green's jack-of-all trades, master-of-none overall playing profile.
He struggles to grasp concepts of team defense, and doesn't rebound at a high enough rate to play major minutes as a downsized power forward. The former first-round pick is a poor standstill jump-shooter, too, and has a debilitating tendency for holding the ball as opposed to moving it quickly. He lacks off-dribble wiggle as well as the court sense to make high-level reads in pick-and-roll play.
Green, though, will still help the Clippers. Unfortunately for Rivers and company, that's a better indication of the limitations presented by Los Angeles' existing lengthy wings as opposed to one suggesting the quality of its new one.
This move improves Clippers at large, and certainly better equips them for a potential Conference Semifinals matchup with the historically great Golden State Warriors. But as he's proven time and again throughout a well-traveled eight-year career, Green just isn't the singular difference-maker at which his unique blend of natural gifts hints. That won't change this time around, either.