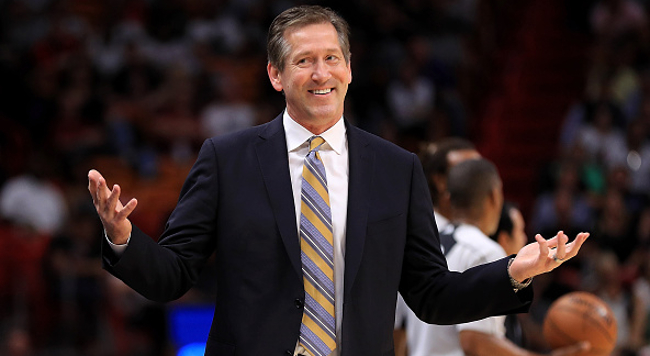 The New York Knicks didn't wait long to start their coaching search for the 2018-19 season. Hours after the team played its final game, the Knicks decided to fire Jeff Hornacek.
Hornacek had just coached the Knicks to a 110-98 victory over the playoff-bound Cleveland Cavaliers on Wednesday night, bringing a disappointing season to an end for the Knicks with a 29-53 record. Earlier in the day, Hornacek had essentially made his pitch to stay on with the team to the media and see through a rebuild that would eventually "blossom," but it was not enough to save his job.
But early Thursday morning, ESPN's Adrian Wojnarowski reported that Hornacek was informed by team officials that he would not be coming back this fall.
https://twitter.com/wojespn/status/984305020123451392
Reports earlier in the week indicated that Hornacek was one of two coaches that could be fired as early as Thursday, and that was indeed the case. Hornacek had one year left on his current contract, and it was unlikely that he would be extended.
Wojnarowski and ESPN's Ian Begley reported early Thursday morning that the Knicks already have a list of coaches they're interested in to replace Hornacek.
Former Memphis Grizzlies coach David Fizdale, former Cleveland Cavaliers coach David Blatt — now coaching in Turkey — and former Golden State coach Mark Jackson are among the candidates that the Knicks are planning to contact, league sources told ESPN.
Wojnarowski added that Jerry Stackhouse will also be in the mix for the Knicks as well.
Hornacek had preached that the Knicks were closer to turning it around than their record indicated, especially with the loss of Kristaps Porzingis to a torn ACL. But another 50-loss season and some potential big-name coaches hitting the market made Hornacek expendable despite his vision for the franchise. Now, the Knicks embark on another coaching search to lead that rebuild without him.