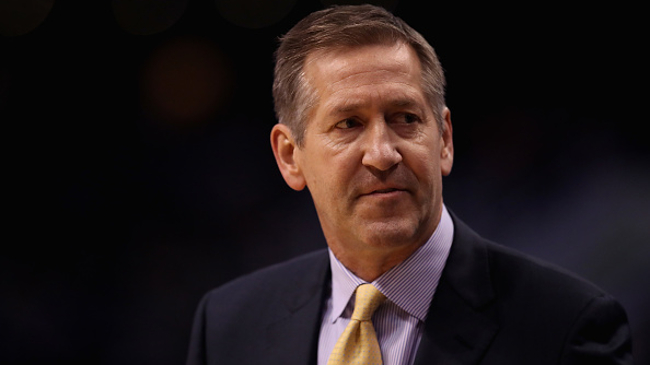 Even after finally parting ways with Phil Jackson last summer, the ubiquitous turmoil and upheaval that has plagued the Knicks for so long continues to linger around the organization. And the disappointment and uncertainty were once again magnified when franchise cornerstone Kristaps Porzingis went down with a torn ACL earlier this season.
As it stands, the Knicks remain mired in Joakim Noah's un-tradeable contract, as well as the $70 million deal they handed to Tim Hardaway Jr. last summer that could also come back and bite them in the future.
But if you ask head coach Jeff Hornacek, his team is much closer to being competitive than you might think, despite many signs pointing in the opposite direction.
Via Stefan Bondy of The New York Daily News:
"Again, if you look at down the road, I don't think we're that far off. You have a cornerstone star in K.P., you have some other really good players already on the team. You can look at Minnesota for an example. They had great players in (Karl-Anthony) Towns and (Andrew) Wiggins, top picks in the draft. And where were they? And then all of a sudden you add (Jimmy) Butler, and (Taj) Gibson and a couple veterans, and now all of a sudden they're really good. So sometimes it's just that one or two pieces that kind of ties everything together. …I don't think it's a five-, six-year process."
The problem for Hornacek is that he may not be around long enough to see it come to fruition. Several rumors have been floating around recently that the front office is looking to replace Hornacek, with names like Doc Rivers and Mark Jackson emerging as likely candidates.
Still, Hornacek points to a fair – if a bit lofty – analogy to the Timberwolves. Porzingis is a can't-miss talent (provided he makes a full recovery from his knee injury) who the organization hopes will counteract Jackson's legacy of scaring off potential free agents with their formerly dysfunctional culture, not to mention an outdated offensive model that the team was finally able to put out to pasture along with Jackson.
If they are, however, going to get back into contention soon, they'll need to find some creative ways to upgrade their roster this offseason and construct a team around Porzingis that can actually make some leeway in the East.