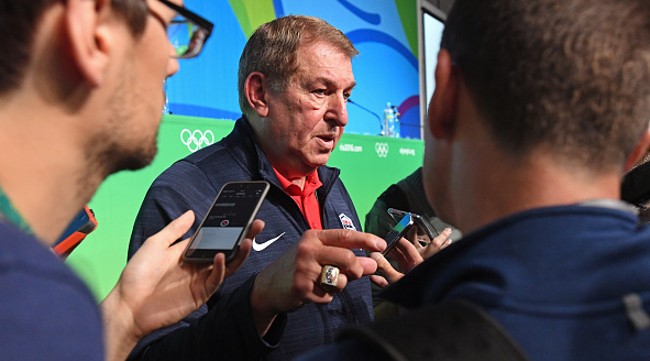 USA Basketball is the height American exceptionalism. After winning their third consecutive gold medal in Rio on Sunday, the U.S. is now 59-1 since Jerry Colangelo took over as chairman of the team following the 2004 Athens debacle. He's the driving force behind their continued global dominance, and he isn't about to start apologizing for that, no matter how lopsided or unfair the overall talent gap might sometimes seem to the rest of the world. Via Sam Amick of USA Today Sports:
"I'm all for raising the bar for global basketball," he began. "The more interest in basketball on all levels, I'm for. I'm a lifer in the game. I love the game. Basketball is the No. 2 sport in the world, (but) we just need to see these other countries get their acts together and become more competitive.

"I'd love to see that. Everyone would love to see that. I'm not going to be making excuses for anyone about our (dominance). Someone said to me (after the game), one of the officials said to me, 'You know next time you play, you ought to play with four.' And I said, 'No, maybe the other teams better get their act together and compete.' "
Despite going into these games as the overwhelming favorites, Team USA wasn't nearly as dominant as their Olympic predecessors have been. The average margin of victory in Rio, for instance, was nearly 10 points less than the 2012 incarnation, and they were pushed to the absolute brink in three consecutive games during group play by Australia, Serbia, and France. Still, that could be chalked up to the fact they weren't at full strength this time around without LeBron James, Steph Curry, Russell Westbrook, Kawhi Leonard, Anthony Davis, and more.
Since the 1992 Dream Team, the level of international talent has grown exponentially, and the 2004 games were a watershed moment for USA Basketball as Argentina's golden generation proved that the Americans could no longer skate by on talent alone. Their subpar play in Rio, likewise, was another reminder that the U.S. isn't as invincible as they might seem. At the very least, American basketball's relationship to the rest of the world is a symbiotic one that has resulted in massive transformations on both sides over the years.