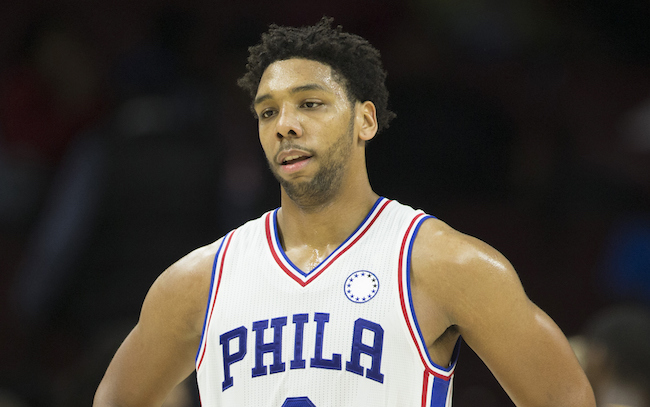 The Philadelphia 76ers are stuck in what feels like an endless stasis of malaise. They have yet to win a game this season and the frustration seems to be setting in for even the most even keeled guy, someone like star rookie Jahlil Okafor.
The all-seeing eye of TMZ seems to have captured what looks like Okafor in a fight early Saturday morning in Boston after the Sixers latest lost. The scuffle allegedly started because a heckler yelled out "The 76ers suck," and it ended how you'd imagine a fight between a 6'11 giant and a normal sized human would: with the small person on the floor writhing in pain.
According to TMZ this all allegedly happened after a night out for the 19-year-old big man and you can see the argument and scuffle play out in the clip below. In said clip, the alleged Okafor is seen yelling, "We got money… you will never have as much money as me." Then he's seen pushing an unknown individual to the floor violently, before striking another and sending him to the ground as well.
It's all a mess, especially for a team that has been a mess for the better part of this decade. Plus, in this era of cameras being attached to everybody's hands, Okafor should know better than to cause a scene, or at the least known this would surface almost immediately. The world will find out one way or the other.
(Via TMZ)