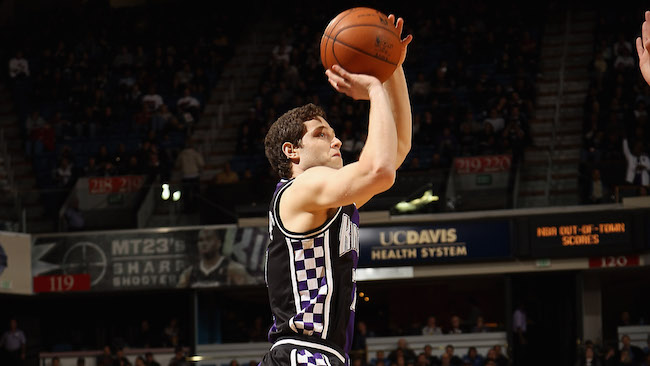 At this point, it is probably safe to assume that Jimmer Fredette won't be a superstar in the NBA. The former BYU standout was, of course, the No. 10 overall pick in the 2011 NBA Draft after a whirlwind final season in college but, after appearing in games for four NBA teams, Fredette is now earning a living playing basketball in China. On Sunday, though, the 27-year-old Fredette did more than simply earn his keep for the Shanghai Sharks of the Chinese Basketball Association. He dominated the proceedings.
Fredette erupted for 73 points in a double-overtime win over the Zhejiang Guangsha Lions and that type of production speaks for itself. According to Qixin Wang of ESPN, Fredette's mind-blowing scoring performance doubles as the fourth-highest total in the history of the Chinese Basketball Association, trailing former NBA player (and Rutgers star) Quincy Douby and current Houston Rockets guard Bobby Brown on the list.
It probably isn't a surprise that Fredette would be capable of a performance like this, simply because he was always an unconscious shooter with virtually unlimited range. It seems like a lifetime ago that he was setting the college basketball world on fire and forcing those on the East Coast to lose sleep with tantalizing late-night performances at BYU, but Jimmer Fredette can apparently still score in bunches.