It's been tough sledding in the NBA for former BYU star (and upstate New York legend) Jimmer Fredette. While he was able to basically score at will in college, he has struggled to adjust to the speed of the professional game. His defense hasn't improved all that much, his ball handling has been exposed, and his shooting (by far his greatest asset at the pro level) has been inconsistent.
Still, Fredette has shown glimpses during his time in Sacramento, Chicago, and New Orleans, of being a potentially solid role player if he could find the right fit and wouldn't be asked to do too much.
The issue for him heading into this offseason was that it didn't seem all that likely that anyone would take a flyer on him. That all changed, however, when none other than R.C. Buford and the San Antonio Spurs came calling and signed Fredette to a guaranteed half-year contract. The Spurs are on the hook for Fredette's salary up until Jan. 10, at which point they will have to decide if the former lottery pick is worth keeping around for the rest of the season.
Fredette wasn't sure if his NBA career would continue, and he told Dick Hammon of The Deseret News he was just as surprised as anyone to get the call from San Antonio.
"It's an awesome opportunity. When I got the phone call, I wasn't expecting this opportunity at all. It is something I'm grateful they offered me and it showed they want me on the team. They don't offer people for no reason. They see a type of guy they want and they go after (him) and I'm glad I'm their type of guy."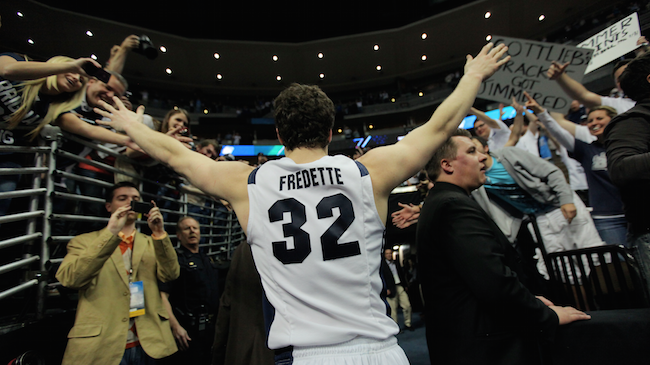 Fredette sounds like he knows that he has his best chance to make something out of his career in San Antonio. The Spurs signed him to be a long-distance shooting threat that can relieve some of their older guards from having to play too many minutes over the course of a long season, and Jimmer said he knows Gregg Popovich's propensity to rest his veterans could be his biggest chance at securing playing time.
"I'm coming in with the expectation that I'm going to have to work as hard as I can to get playing time and work my way in the rotation. One thing I do know, if I'm on the team, they do give guys rests. So, I will have the opportunity to play and I think it is my type of basketball."
Being as I'm from the area in which Fredette grew up in upstate New York, I can't help but root for the guy. It's not his fault that Sacramento greatly overestimated his value by grabbing him 10th overall in the draft, and I don't think it's fair to label him a bust since most of the issues he's had have been the same ones that most scouts figured he would have at the NBA level.
With all that being said, this is probably Fredette's last chance in the league. It's hard to imagine him having a better fit than with the Spurs, so if he can't make something out of it this time, you may very well might have to take a plane ride out to Europe if we want to see Jimmer Range next season.
(Via The Deseret News)