Jimmy Butler is having a career year with the Chicago Bulls as he tries to pull them into the Eastern Conference Playoffs. He's set new career-highs in points (23.9), rebounds (6.2), assists (5.1) and steals (1.9) per game, and has emerged as one of the league's best players. But he's driven by far more than success on the basketball court.
With Derrick Rose gone, Butler has become the biggest basketball star in Chicago, and he's producing at an All-NBA level. That didn't keep him from being connected to trade rumors through the NBA's trade deadline. For more than a month, there were rumors that the Bulls were listening to offers for Butler, and those only got stronger as February's deadline approached.
In the days leading up to the deadline, reports swirled that the Celtics were having conversations about flipping picks and players for Butler. The Texas native, who spent his entire adult life in the midwest at Marquette and then with the Bulls was looking at a potential new home in Boston. Despite constantly hearing his name being brought up in trade talks, Butler insists that the trade deadline didn't phase him and offered a unique perspective on dealing with rumors.
"It was like every other day," Butler told DIME when asked about what deadline day was like for him. "Me trying to control what I can control, and that stuff I can't control is over my head. I focus on being me to the best of my abilities. I focus on my guys and my family. Basketball's only a part of this whole thing, but if that's the only thing I'm remembered for, then I did so many things wrong. Either way it went, I was still fortunate enough to still be an NBA player and live out my dream. So I don't even think about the trade deadline."
Part of why Butler wasn't concerned with the trade rumors is that, no matter where he plays, he can continue to have a voice and a platform for causes off of the court. Butler, in partnership with Kellogg's, recently launched his #BucketsForBreakfast campaign to help raise awareness for childhood hunger as part of the No Kid Hungry Initiative. While Butler wants to win wherever he plays, it's equally important to him that he is affecting change in the community.
"I just want to win, at all costs. That's on the floor," Butler said. "Off the floor, I want to change the world. I want to make sure these kids have what they need, which is why I'm here. I think me being who I am on the floor gives me a voice to talk about what I believe in, what I want to have changed off the floor. So, that's what I focus on. Basketball is the easy part. I do that all the time. This is what I want to change, man. I'm passionate about this. I mean it. I'm fortunate to partner with Kellogg's and get these kids breakfast. That's what I want to leave, what I'm doing for these kids. Basketball's only a part of it."
Butler isn't shy about giving his thoughts on social issues, whether it's his efforts to raise awareness and funding for childhood hunger, or speaking out earlier this year against Donald Trump's negative comments about the city Chicago. He's among the growing list of NBA players that have spoken out about social and political issues, and he believes it's making others feel more comfortable doing so.
"I love that [guys are speaking out]," Butler said. "I think that our faces and our voices are heard everywhere and seen everywhere. So, you have the right to speak up and believe in whatever you want to believe in and speak your mind on that. I think that there's no wrong way to go about things as long as you're passionate and you're standing up. That's important, and it's just given other guys confidence to do the same and be who they are. And that's all you can ask from anybody."
While Butler has found his voice outside of basketball, the winning on the court part of the formula has been the most difficult. Chicago is 31-32 this season, currently in the eighth spot in the East, a game and a half up on the Heat. With the departure of Rose, the Bulls' brass wanted to build a roster that could still compete in the immediate, so they went out and brought in a pair of veterans in Dwyane Wade and Rajon Rondo.
Chicago tried to sell the concept of "three alphas" with the offseason additions of Wade and Rondo, but it's clear that Butler is the main guy. Wade has been more than solid as the secondary option to Butler, averaging 18.9 points, 4.6 rebounds and 4.0 assists per game, but Rondo has failed to work out as Chicago hoped.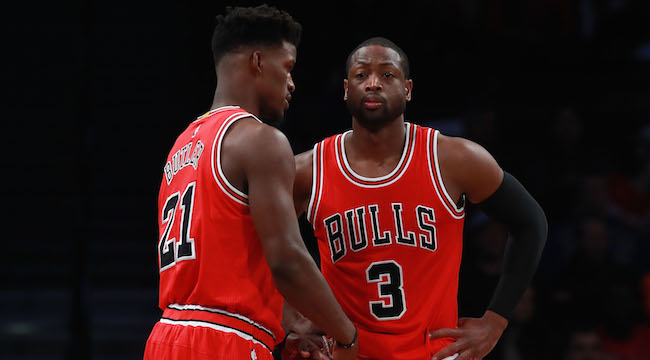 The 27-year-old Butler and the 35-year-old Wade have taken on the leadership roles for the team both in production and in the locker room, and have, for the most part, found themselves on the same page. That hasn't been the case with Rondo, which was never more apparent than when Wade and Butler repeatedly called out the team's lack of effort earlier in the season and then Rondo blasted both of them with an Instagram post deriding them for speaking out publicly about team issues.
At the time, many wondered how the Bulls would handle it as it seemed to create a locker room divide, but internally, Butler loved it. It was the fire and spark he had been waiting to see out of his team.
"I like that type of stuff to tell you the truth," Butler said. "I like a little clashing of the titans, or whatever you call it. I think it's good for you. Builds character. Makes you come together."
Butler knows that so long as the Bulls are staying in the playoff hunt, those issues will remain stored on the backburner and not become a significant story again.
"Like I've always said, when you win, everything seems amazing," Butler said. "'Oh that was so good. I'm glad that happened.' When you lose, now it's going the other way. Now, everybody is a problem and everybody has a problem with someone else. While we're winning right now? Oh, you should read everything that's in the media. 'Oh, the Bulls they're just going to be fine,' blah blah blah. So, as long as we keep winning, man, ain't nobody's gonna be worried about none of that."
In a season that's defined by teams and players chasing history, Butler and the Bulls find themselves overshadowed. As a team Chicago's scrapping for a final playoff spot with a roster that, if the intent was indeed to build around the strengths of its star player, was constructed poorly. Butler has still managed to post his best individual season ever, but it's happening in a year where Russell Westbrook and James Harden are posting historic averages.
In a normal season, Butler would be getting at least some chatter about his MVP credentials, but in 2016-17, he finds himself left off the shortlist of candidates. That doesn't seem to bother Butler, who, like with the trade deadline, wants to focus on himself and control the clutter around him rather than worry about what players elsewhere are doing.
"I'm always trying to be my best at all times," Butler said. "I don't need to compare myself to the likes of Russell Westbrook or James Harden, which those guys are some incredible players — future Hall of Famers to tell you the truth.
I just try to be the best me I can be. Whether that be on the floor or off the floor. I can't compare myself to anyone else because I'm not them. I think when you compare yourself to someone else that's when you come up short or you don't be who you think you can come out to be."
Whether the Bulls keep Butler through the final year of his contract in 2019 (with a player option through 2020) remains to be seen No matter where he plays, he's going to be himself on and off the court.