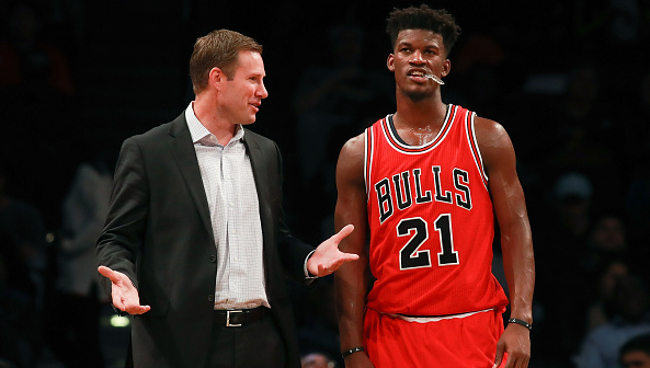 Long before he was traded to the Minnesota Timberwolves this summer for Zach LaVine and Kris Dunn (and other assets), Jimmy Butler had developed something of a reputation around the Bulls organization for being a difficult personality. Back in January during a particularly rough stretch, Butler (and Dwyane Wade) both called out their teammates in the media for a lack of urgency, which naturally rubbed some of them the wrong way.
Just a few weeks later, he accused the front office of spying on them in the locker-room. But even prior to that, Butler had already forged a somewhat acrimonious relationship with then-new coach Fred Hoiberg, telling reporters after a tough loss that they need to be "coached harder."
These interpersonal issues, together with the Bulls' on-court problems, pushed the organization to aggressively try and move him this summer. The Celtics allegedly had some concerns about Butler fitting into their locker room, which was floated as a reason why they moved the Brooklyn pick for Kyrie Irving rather than the former Bulls' star, but Tom Thibodeau, who'd coached Butler before, clearly didn't have any reservations.

In a recent interview with Michael Pina of Vice Sports, the three-time All-Star finally opened up about why he butted heads with Hoiberg and why there are no hard feelings remaining from his side.
"I'm confrontational. I feed off of confrontation. It makes me go. Not everybody's like that. [Bulls head coach Fred Hoiberg] is not that coach, and there's nothing wrong with that. There are different coaching styles and people are gonna say—which is what they did say—'It's gonna be Jimmy's team or it's gonna be Fred's team.' Two total opposite ends of the spectrum. They're either gonna try to win it now or they're gonna go young. And you see which way they went with it. Completely fine. Yo, it's y'all's business. It's y'all's organization. It's cool. And now I'm in Minnesota and couldn't be happier."
It became increasingly clear over the past couple of years that Butler and Hoiberg simply weren't a good fit, in no small part due to the fact that the latter was never able to successfully implement the uptempo style of play the league has been trending toward.
Now, the Bulls are in full-rebuild mode, while Butler joins his former coach Tom Thibodeau on an already-stacked young team in Minnesota that is looking to end its long playoff drought. He's obviously entering a better situation than the one in Chicago, but being in the Western Conference certainly isn't going to make life any easier on the basketball side of things.