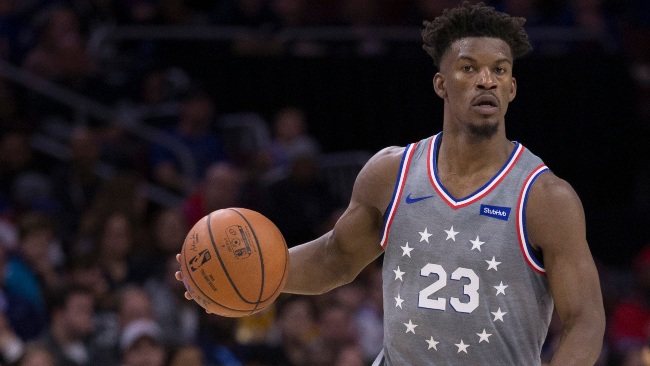 There were many reasons the 76ers traded for Jimmy Butler. He's one of the NBA's best two-way players, a super competitive athlete who would get along well with Joel Embiid, and he brings them a third star next to Embiid and the growing Ben Simmons. Acquiring Butler has made it clear that the 76ers championship window is open and they're going to make a run for it, especially now that LeBron James has gone west.
They also acquired Butler so they could have someone to rely on in close situations at the end of a game. Simmons and Embiid are great, but they are limited in ways that Butler is not. Butler can not only make clutch plays with the ball in his hands, but he can come up defensively as well. Both of these things were on display in Philadelphia's 122-119 win over the Charlotte Hornets.
Kemba Walker was unstoppable on Saturday night, as he put forth a 60-point outing. However, Butler limited him to two points in the overtime period, and on a big defensive stand, the newest Sixer made a huge play to reject Walker.

Then, in a tie game, the Sixers just gave Butler the ball and let him go to work. Butler can create for himself, so in a 1-on-1 isolation situation, he is the guy who gets the ball. As such, he took it and delivered.
It's going to be said 1,000 times, but these late-game situations are why the Sixers traded for Butler. Even in a night where he only made four field goals and finished with 15 points, he made all the biggest plays and led Philly to a win. A real argument can be made that without Butler, the 76ers would have fallen because of an otherworldly performance by Walker. They didn't, though, and down the stretch, Butler was the biggest reason why.