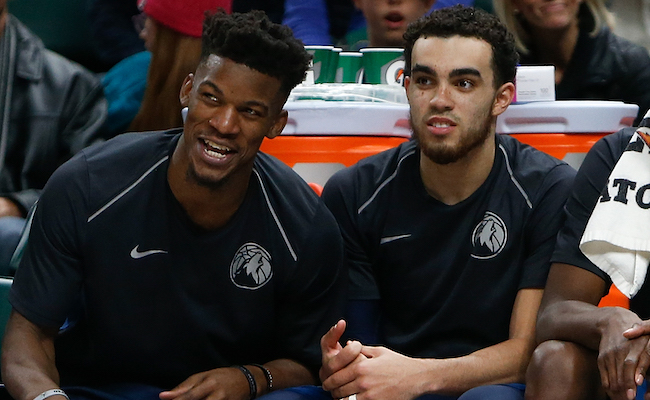 Duke basketball will get the chance to show off its history-making recruiting class on Tuesday night, as the Blue Devils will kick off their 2018-19 campaign against the Kentucky Wildcats. While R.J. Barrett, Cameron Reddish, and Zion Williamson draw most of the attention as the top-3 recruits in America in the class of 2018, Duke has a potential star at point guard in five-star point guard Tre Jones.
If that last name is familiar, well, it should be: Jones' brother is Tyus Jones, the former national title winning floor general for Duke in 2015 who now plays for the Minnesota Timberwolves. Jones the elder and the Timberwolves are in Los Angeles to take on the Lakers on Wednesday night, which is unfortunate for him, because it'd be cool to watch his little brother's collegiate debut.
But fortunately, Jones is teammates with Jimmy Butler, who made it a point to get him to Indianapolis for Tuesday night's tilt in the Champions Classic. According to Jon Krawczynski of The Athletic, Butler chartered a plane for the pair to fly from Los Angeles to Indiana for the game.

It's a cool gesture by Butler, who Krawczynski says is a fan of Jones. However, Jones had to go it alone, as Butler wasn't to able to make it out to Indianapolis.
The younger Jones is one heck of a basketball player, as he prides himself on his defense and gives Duke a legitimate floor general at the 1 since, well, his older brother was in Durham.