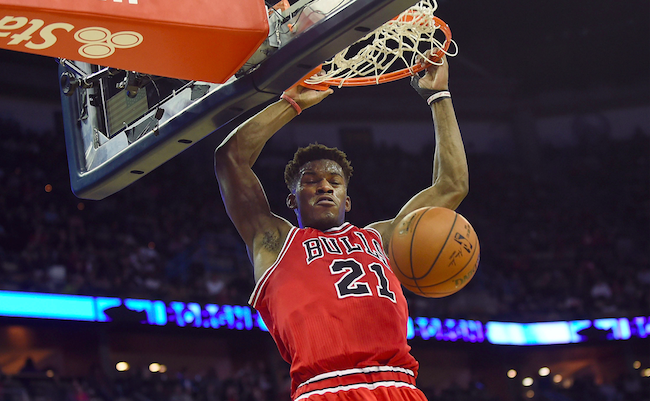 These are precarious times in Chicago-land. They've had to weather yet another setback to Derrick Rose's endlessly troublesome knees, squabbles over Joakim Noah's minutes' restriction, and ongoing rumors about what's beginning to seem like Tom Thibodeau's inevitable dismissal from his coaching duties.
The good news for the Bulls is that they'll get their All-Star swing-man Jimmy Butler back in the lineup tonight against the Charlotte Hornets. Butler hasn't played since spraining a ligament in his elbow against the Clippers on March 1.
According to ESPNChicago.com, Butler went through this morning's shoot-around and is expected to play tonight. For the injury-depleted Bulls, his return couldn't come soon enough.
"It's very important to get our guys back," Bulls center Joakim Noah said. "Jimmy's a big part of what we're trying to do and we're really excited to have him back. He's a tough-minded player who plays to win. I think everybody does on this team, but Jimmy's a hell of a talent and brings us toughness, which we need."
Prior to his injury, Butler had been a revelation for the Bulls this season, averaging 20.2 points, 5.9 rebounds, and 3.3 assists en route to his first All-Star selection. His progress this season has positioned him as a leading candidate for the Most Improved Player award as well as one of the premier two-way shooting guards in the NBA.
Before the season, Butler hedged his bets and turned down the Bulls' rookie extension offer, allowing him to become a restricted free agent next summer and command more money. That bet will almost certainly pay off, considering his play so far this season. More than a couple of teams will likely line up to offer him a max contract, but the Bulls ultimately have the ability to match any offer sheet.
The Bulls are currently clinging to the fourth spot in the Eastern Conference playoff hunt but have lost six of their last 10 games. If Butler does return tonight, Thibodeau does not expect him to be under any sort of minutes restriction.