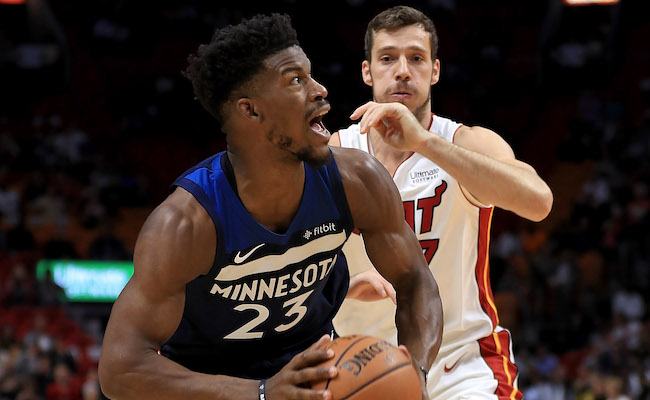 The Jimmy Butler trade saga continues and, in recent days (er, hours), things have only gotten weirder. There was a disagreement with regard to a players-only meeting, with Butler indicating one took place and members of the Minnesota Timberwolves disputing that notion. In addition, the Wolves cancelled practice one day after Butler showed up and dominated a practice and, in short, there is no end in sight.
Further illustrating that is the fact that the Miami Heat appear to be the only active suitor for Butler in trade talks and, at the moment, talks seem to have broken down. The latest update stems from reporting from Jorge Sedano of ESPN, who appeared on radio and indicated that Tom Thibodeau balked at a deal after medical information was shared because he wanted more.

As noted by Darren Wolfson of ESPN 1500 in the Twin Cities, Sedano is plugged in with the Heat and, to put it plainly, the colorful reaction from Pat Riley paints a bleak picture between the two sides at the moment. It appears as if Wolves owner Glen Taylor is not without blame in the recent discussions, though, as Marc Stein of the New York Times notes that a deal would have been done on two occasions if not for Taylor's veto.
At this point, these trade negotiations are off the rails and it would be easy to believe anything emanating from the entire situation. Still, there is at least faint hope of a deal coming together considering how close a final product seemingly was on multiple occasions and, if Riley and Thibodeau can return to the negotiating table, fireworks could (finally) arrive in the near future.
For now, Butler remains in Minnesota and, eventually, the Wolves have to play games, ostensibly with their All-Star wing in the lineup. Buckle up.