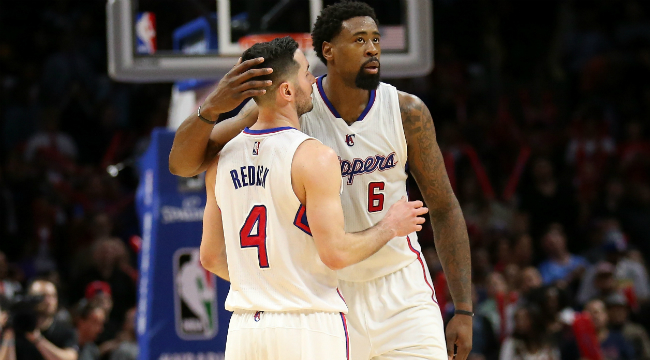 It's no secret that the Los Angeles Clippers, faced with the unrestricted free agency of their center DeAndre Jordan and a difficult salary-cap situation, didn't have much of a chance to bring in a player of Jordan's caliber if he decided to leave. They were pretty much all in for DeAndre, and then he agreed to a deal with the Dallas Mavericks. In official NBA terms, womp womp.
And yet, it was still surprising to hear J.J. Redick appear on Bleacher Report Radio on Tuesday to come out and grade the Clippers' offseason (so far) as an F. That's his own team! Here's the audio, with the key passage transcribed below:
"F. Listen, we had one priority this summer, and that was to resign DJ, and we missed out on that. Barring some miracle, the makeup of our team is completely different now, he was such an integral part of what we did… Missing out and having him leave for Dallas gives us a failing grade."
It is pretty refreshing to hear a player speak with honesty about his team's disappointing off-season. He would probably be whistling a happier tune if the Clippers had managed to sign Tyson Chandler or Robin Lopez, but they simply didn't have the cap space to pull it off without giving up on DeAndre earlier, something they were clearly not willing to do. Redick didn't address whether Chris Paul's reportedly crappy attitude toward DJ was to blame for the big man's departure, nor was he asked if JaVale McGee would make him feel better (but I doubt he would).
The funniest part of all of this is that NONE OF THIS IS OFFICIAL. All the announcements about free-agency signings and trades are based on handshake agreements conducted during the moratorium period between July 1 and 9, when negotiations are allowed but actual transactions are not. Why does this period exist, you might ask? Good question. I really don't know. But it does exist, and treating these agreed-upon-but-not-official deals as official has already landed Mavericks owner Mark Cuban a fine from the league office. If Adam Silver is consistent at all, Redick's comments should warrant the same treatment. And that's ridiculous!
The entirety of the basketball internet discusses all these deals as if they're set in stone, and even though they're not, NBA teams can't exactly go back on agreements they've made if the moratorium period doesn't work out for them, because it will lose the faith of anyone with whom they attempt to negotiate in the future. We report on all this news as if it's going to happen because it is, and it's unfair to ask Cuban or Redick to play dumb to this extent while everyone else talks. Let them live, or get rid of the moratorium.
Thursday is July 9, so expect the predictable avalanche of "officially" news to land then.
(Via Bleacher Report)