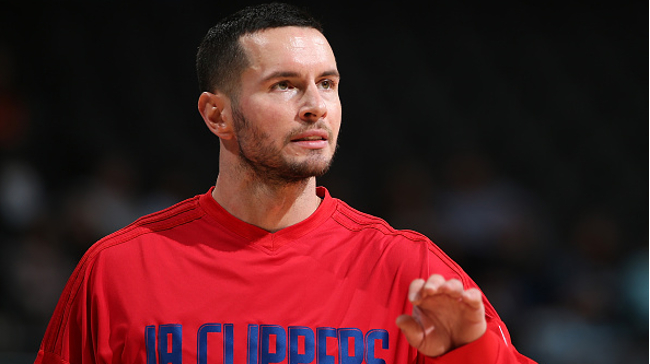 It's no secret that the NBA is predominantly black, a reality that spurred The Undefeated's Marc J. Spears to wonder what life is like being a white American – i.e. a "minority" – in the NBA. So he spoke to a handful of white players to get their insight. One of those players was Clippers guard J.J. Redick, who has proven on his podcast over at The Vertical to be a thoughtful and compelling voice on all things NBA-related and otherwise.
When asked about the controversy surrounding the national anthem protests in recent months and whether that's created racial tension among teammates, Redick offered a nuanced response that pointed out the hypocrisy in both the media and fans' reactions to those protests, as viewed through the lens of cultural appropriation:
My mother's side is Swedish. My dad's side is Irish. They were sold an American dream. They came here voluntarily. African-Americans were the only people that didn't come here voluntarily. They were forced here. And so culture, it's just different and been different. For white America, and I include myself because I'm white, it's interesting to me how we can pick and choose the parts of black culture that are acceptable and not acceptable. It's interesting to me as a whole that's what we choose to do.

I can do my rap music and listen to that, and that's OK. But we are going to racially profile young black men because they are 'criminals.' It's just a stark divide between perception and reality … It's just such a rich culture and a rich history. There are so many layers to it.
The NBA was bracing for the possibility of widespread protests in the wake of Colin Kaepernick and other pro athletes' decisions to kneel during the national anthem , but aside from a few expressions of solidarity, it's been relatively quiet on that front throughout the preseason. Redick's coach, Doc Rivers, has said previously he'd support his team fully (and further hopes they'd do so collectively) if they decide to protest the national anthem prior to tip-off. With the NBA season officially getting underway on Tuesday night, there should be a bit more clarity about what we can expect going forward.