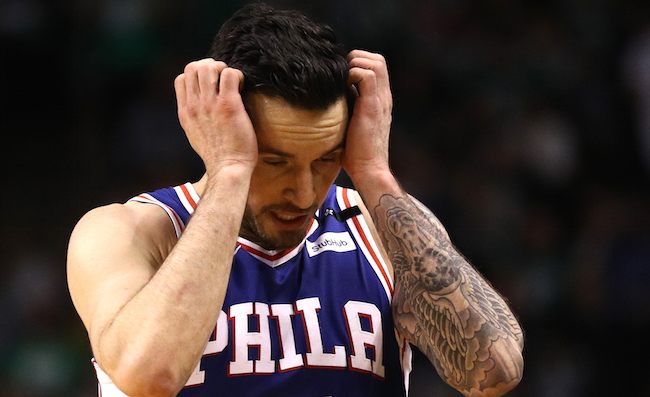 J.J. Redick has had a pretty good summer in that he was able to get a nice little payday from the Philadelphia 76ers. The veteran sharpshooter signed a one-year contract with the team last year, and Philly was so happy with his performance that it decided to bring Redick back on a second one-year contract.
However, it sounds like Redick's entire summer might have been irreparably ruined by a series of events in New York City. Redick told a story prior to his podcast with Mo Bamba that involved a person in a cage (or something similar) with a blanket over it during a car ride he took with his wife, Chelsea, and his sister-in-law, Kylee.
I am not going to write up too much of the story because Redick, obviously, does it justice way more than any words can. Please listen to the whole thing and try not to be completely mortified.

If you would not like to listen to the whole thing — and, honestly, I would not blame you — here are the possible options at hand that Redick lays out after he takes us through the whole ordeal.
So, possible sort of scenarios here. I think, best case for everyone involved is that maybe his sister or his cousin or maybe a girlfriend or wife needed a ride across town and they didn't want to pay for an Uber or taxi. right? That's probably best-case scenario. And then from there you go darker, you know? This is not funny, but child abduction, human trafficking. Like, Chelsea's dead serious texting me today and she's like, "I'm calling the FBI tip line and I'm opening a claim. This is serious." I don't know what to make of it. It definitely was not a dog. I will say that. It was a human being in the back seat of his car, under a blanket in some sort of box or cage.
Redick said that he's told this story a few times in the "less than 24 hours" since it occurred, and each time, he gets goosebumps. He's a smart dude, but I think we can all agree that it is in everyone's best interest for him (and the rest of his group) to have looked a little too fast and for a human being to have not be in a cage under a blanket in the trunk of a car, and if they did see a person, hopefully this car driver is found ASAP. Also: Both Redick and Bamba imply at different points that this sort of thing shouldn't catch people by surprise in New York, which as a native of the New York metropolitan area, I feel compelled to tell you I have never seen this happen before in my life.