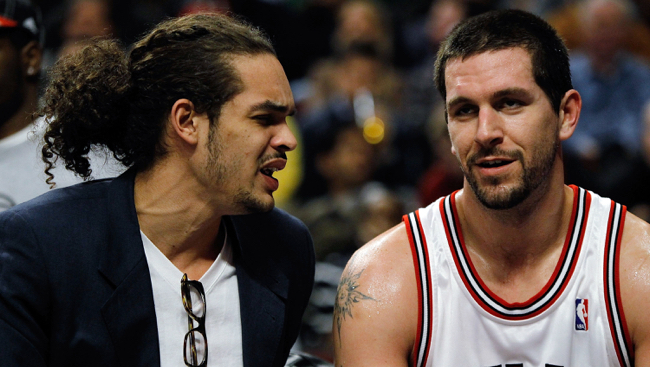 Last night the Bulls hosted the Pelicans at the United Center in Chicago. It was a reunion of sorts for Pellies big man, Omer Asik, who played with Chicago in his first two seasons, 2011 and 2012. Asik and Joakim Noah used to terrorize opponents who came into the lane on those terrific early Tom Thibodeau teams.
In fact, Omer played so well off the bench for that group (his on/off defensive numbers in his last season with Chicago are staggering), Daryl Morey signed him to a three-year poison pill deal with the Rockets in July of 2012 (the same summer they signed Jeremy Lin away from the Knicks). The Rockets then went out and got Dwight Howard the next summer, so Asik was dealt to the Pelicans and he gelled so nicely with the Bayou crew, they re-signed him to a five-year $58 million extension in July.
Despite Asik's summer movement, he and Joak are still tight, and after Monday night's preseason game, Noah and his low-post pupil got to together for a photograph with another former Bulls big man, Brad Miller — he of the white guy cornrows and smooth mid-range jumper who narrowly avoided getting knocked out by Shaq.
Except, that's not the Indiana native…
Look at those smiles. Miller's last season in Chicago was the year before the Bulls traded with the Blazers for Asik, but we're already picturing Omer with dreadlocks.