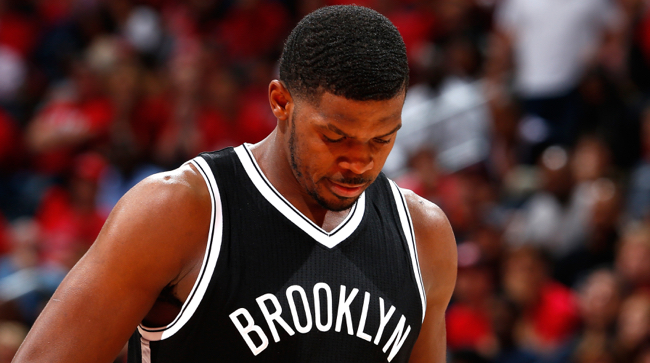 Next summer, when Joe Johnson becomes a free agent and will likely not re-sign with his incumbent team, the failed experiment that has been the early Prokhorov-era Brooklyn Nets will finally, mercifully come to a close. Paul Pierce and Kevin Garnett have gone Westward ho, Deron Williams is finding signs of life in his hometown of Dallas, Texas, Mason Plumlee is keeping it weird in Portland, and now Johnson will apparently seek a spot on a contender when his current mammoth six-year contract expires next summer. Via Andy Vasquez of NorthJersey.com:
"Winning. Winning is going to be important to me," Johnson told The Record when asked about his impending free agency. "I've made enough money, man, throughout my career. So, yeah, winning will definitely be top priority for me."
Johnson's numbers are down all across the board so far this season, and it's highly unlikely he'll command the type of mind-bending, record-breaking contract he earned the last time he was a free agent in 2010. And though his one-one-one style of play might look like a relic in the pace-and-space era of the modern NBA, Johnson has shot nearly 37 percent from downtown for his career, and every team with championship aspirations could use another reliable three-point threat. So it seems like a good bet that some title contender, fringe or otherwise, would take a flier on the former seven-time All-Star to give them some much-needed scoring punch off the bench.
(Via NorthJersey.com)