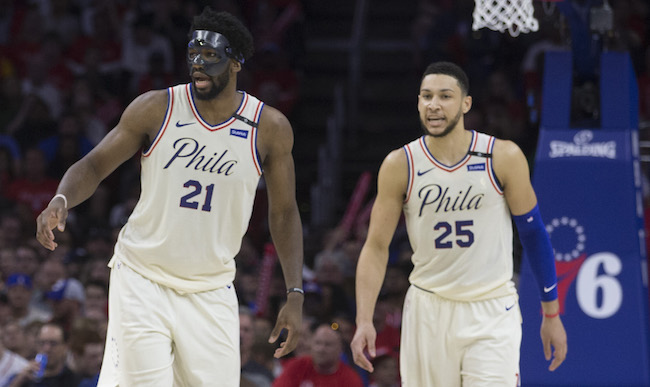 Joel Embiid had 27 points and 12 rebounds in Game 5 of Philadelphia's second round matchup with the Celtics in Boston, but the Sixers still fell short in a 114-112 loss. That result meant Philadelphia's season came to an end on Wednesday night, but there is still plenty of optimism about the future for the Sixers (and the Celtics) after the end of this series.
The Sixers' youth and inexperience seemed to rear its head at the worst possible times against Boston, who seemingly executed at the highest level when they needed to the most. While frustrating, this series will provide plenty of lessons for Embiid, Ben Simmons, Dario Saric, and others on the young Sixers who all got their first taste of playoff experience this year.
After the game, Embiid pointed to that bright future the Sixers have and remained upbeat after the loss in his postgame press conference. He referenced how Philadelphia was ahead of the curve compared to some recent great teams that have been built around young stars like the Thunder and said Simmons walked up to him after the game to remind him that "there's going to be a lot of rings" in their future together.
While it's always risky for young players to feel like championships will simply come in time (which there are plenty of cautionary tales former star players can offer about never landing a ring), right now it's probably a good sign that this series hasn't diminished the confidence of their young stars. Embiid and Simmons are the centerpieces of the Sixers, and Philadelphia will look to them to lead the way to prosperity in the future, so as long as they recognize their shortcomings that were exposed in this series and use it as motivation to work on those going forward, this is a healthy mindset.
The Sixers and Celtics seem poised to have many battles over the coming years in the Eastern Conference, so Embiid and company can look to their next playoff meeting to even the score and exact some revenge. For now, it's Boston that earns the right to host LeBron and the Cavs in the Eastern Conference Finals, while Philly goes home to put in the work so they can take the next step in The Process.