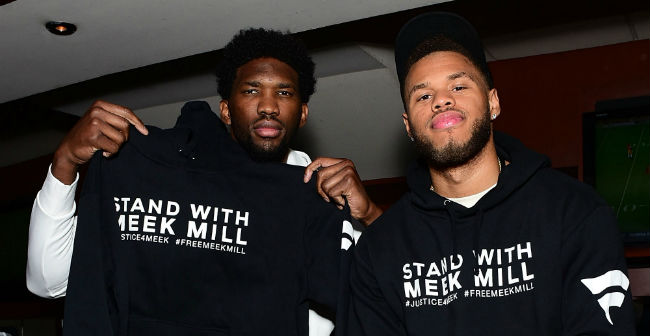 The Philadelphia 76ers are serious about showing their support for Meek Mill. Plenty of people within the organization have expressed support for the rapper, who was given a harsh jail sentence as a result of a parole violation.
Plenty of others in the sports world and music industry have spoken out in defense of Meek Mill, including Jay-Z. That's why it's no surprise that when Hov held a concert in Philadelphia on Friday, it featured an outpouring of support. Sports Illustrated reports that Joel Embiid and Ben Simmons were at the D'Usse VIP Lounge with shirts supporting the embattled rapper after Jay-Z's 4:44 concert stop in Philadelphia.
Embiid and Simmons were photographed wearing "STAND WITH MEEK MILL" shirts at the show. Embiid is an especially ardent supporter of Meek Mill, as the young big man visited his friend in prison earlier this week.
He discussed the trip with the media on Saturday, saying "First of all, it was scary. I'm never going to jail. I got into that place and I was pretty scared. I just wanted to go out there, support him, pretty good friend of mine. So I just wanted to go out there, show him some support and let him know that we're behind him. There was a little bit of injustice there so I just wanted to go out there with whoever I was to show him the support."