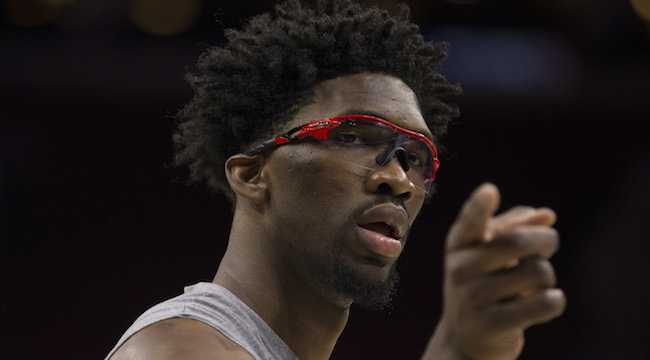 The 2016-17 NBA Rookie of the Year race is not exactly star-studded now that Joel Embiid, who was the runaway favorite, was shut him down for the rest of the season with a torn meniscus after only 31 games played.
With Embiid out, his Sixers teammate Dario Saric has emerged as the new frontrunner to take home the award. Saric is averaging 12.2 points, 6.3 rebounds and 2.2 assists per game, and his averages have skyrocketed over the last two months as the focal point for the Sixers in Embiid's absence. While there's been some debate about whether Embiid, who was averaging 20.2 points, 7.8 rebounds, 2.5 blocks and 2.1 assists per game, was still deserving of the award despite the limited court time, the man himself made his choice for the award known on Sunday night.
"He's the Rookie of the Year! That's the guy," Embiid said, crashing Saric's post-game interview after a 118-116 Sixers win over the Lakers. Saric is going to continue to see his averages climb as the year progresses (in seven games in March he's averaging 19.3 points, 7.3 rebounds and 4.0 assists per game) and now he has Embiid, who still might be his biggest competition for the award, campaigning for him.
It would be pretty incredible for the Sixers to go from having a Rookie of the Year lock getting injured to having another rookie win it in his place. If Embiid has it his way, that's what will happen, and it will be yet another win for The Process.