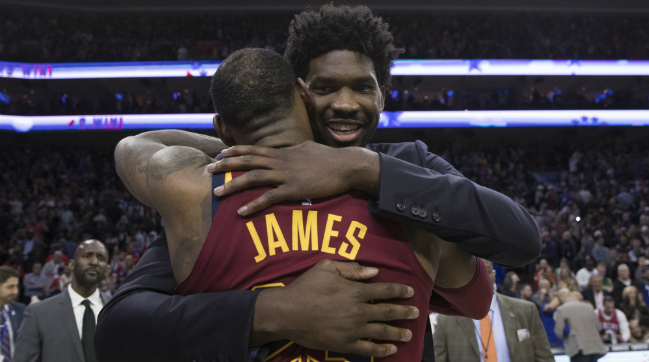 The Philadelphia 76ers were in a position to land an All-Star free agent this summer, but time the dust settled, players like LeBron James and Paul George chose to head somewhere other than the City of Brotherly Love. It's not the worst thing in the world, because the Sixers still have Joel Embiid and Ben Simmons, plus reports indicate Markelle Fultz might be returning to the form that led to him being the No. 1 overall pick in the 2017 NBA Draft.
But still, striking out when the Eastern Conference is suddenly LeBron-less is unfortunate. In the eyes of Embiid, though, it's not something worth getting riled up over. The Process spoke to Michael Lee of Yahoo Sports about the offseason in Philly, and he is fine with players going elsewhere, because he wants to be better than all of them.
"When my season ended, there was a lot of talk about adding guys," Embiid said. "I literally did not really care because I want to get better. I want to be better than those guys that were mentioned, if I'm not already better than them. That was my message, just going into the offseason, finally the first one healthy and able to do whatever I want. That was my goal regardless."

Of course, it's awfully easy to be skeptical of this declaration from Embiid, as he was incredibly active on social media during the offseason regarding the Sixers adding some talent. This was especially true when it came to James, as he made a few passes at trying to convince the best player in the world to head to Philly.
Embiid addressed that, too, saying, "I thought we had a chance. I'm a player. I always felt like it's not my job to be in the middle of all that. I don't like to be involved in front-office stuff. I always felt like [LeBron] didn't need my help if he was going to do it. It is whatever."
Perhaps the Sixers will find more success in the free agent market next summer, as it's expected to be something of a free for all with all the talent out there and the projected money that each team will have to play with. If they do, Embiid will surely be overjoyed about the infusion of talent in Philly. If not? Well, he probably won't care all that much.
(Via Yahoo Sports)