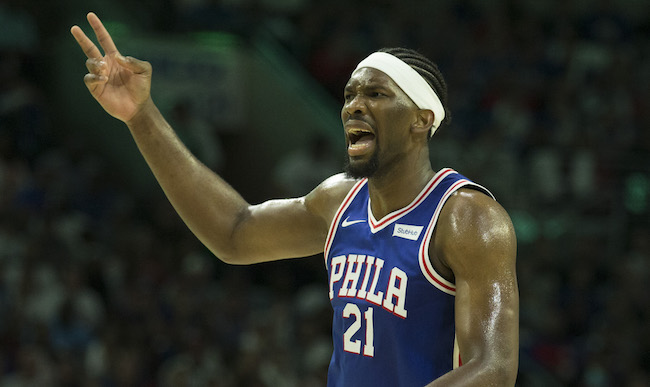 Joel Embiid and the Philadelphia 76ers are one of the best early season storylines in the NBA so far. Embiid is averaging 19.8 points and 10.3 rebounds per game, while rookie Ben Simmons has been a revelation at point guard, averaging 17.4 points, 9.0 rebounds, and 7.8 assists per game.
The Sixers are 6-6, but it's not hard to see their potential as a contender in the near future. On Saturday night, Philly's young squad got the chance to go up against the Warriors and got a lesson from the NBA's best in a 135-114 loss to Golden State.
While they didn't come close to a victory, they did earn high praise from some of the Warriors' stars. Prior to the game, Steph Curry complimented Joel Embiid and Ben Simmons as being "animals" and the future of the game, and afterwards, Draymond Green gave Embiid a stamp of approval for his play and his trash talking abilities.

"When he draws fouls on guys, he look at they bench like 'get them out of the game,'" Green said. "That's how I grew up playing the game and he is all of that. So, I enjoy it. He said a little bit tonight. We talked after the game. I'm expecting a little bit more words when they're at home next week. It should be fun, though. When him and [Kevin Durant] start barking at each other, I don't understand why that's a double technical. Like, it's basketball. I think the fans love to see that. It's like when Dennis Smith and I said our words earlier in the season. The referee let us talk, and the game continued on.

"Like, double tech guys for that, I really don't understand that. At the end of the day, it's basketball and entertainment. And that's entertaining. It's not like they're disrespecting the game, disrespecting each other. They're not in each other's face barking. They're saying something and walking the other way. It's basketball. Why won't you let that happen? It makes the game more fun. It hypes those two guys up to go at each other, then the game gets better, it gets more interesting. I'm a big fan of it. I'm a fan of the way he plays, the way he carries himself. The talking and all that. I like it. I think more guys should be that way."

Draymond isn't one to just dole out compliments to anyone, so this is a pretty strong statement about Embiid, both as a player and a talker. Green's pleased to see a young big man emerging as a star that can take trash talk in stride and give it right back. The double technicals Green speaks of involving Embiid and Kevin Durant did seem like a weak decision from the ref, and is one that, especially in a game that wasn't really chippy, could certainly have been let go.
In any case, Embiid has earned the respect of Green, who is now looking forward to their next matchup in Philly and hopes Embiid brings his A-game when it comes to talking.