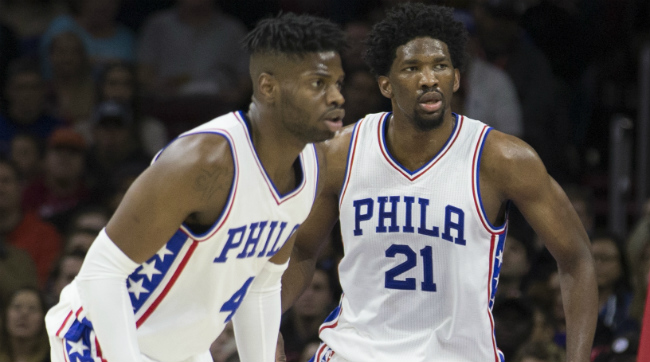 One of the more surprising moments from the 2017 NBA trade deadline came when the Philadelphia 76ers sent Nerlens Noel to Dallas in exchange for Justin Anderson, Andrew Bogut, and a conditional draft pick. Noel was going to be a free agent during the summer, but seeing as how all the chatter during trade season was that Jahlil Okafor was on the block, getting rid of Noel was unexpected.
For Joel Embiid, this was more than losing a teammate, as he considers Noel his best friend. Sure, this is the kind of thing that happens all the time in the NBA, but it has to be hard for someone close to you to get traded.
The good news for Embiid is that he'll get to see Noel on Saturday evening when the Sixers travel to Dallas to take on the Mavericks. He also has a very unique way of saying hello to his old friend, as he wants to dunk on Noel whenever he gets the opportunity.

As for Noel, he's going to try and return the favor to his old friend.
So for one, please mic up the two of them, NBA, and I will pay any sum of money to hear what they say to one another for four quarters. The moments where these two match up could be few and far between — Noel's only averaging 19 minutes a game, while Embiid is at 27 a night as he's dealing with a minutes restriction that he dislikes. But it should still be a fun matchup between the two, especially if, you know, Embiid tries to dunk on Noel every chance he gets.